Yesterday was Atlanta's Hogs and Hops festival down at the Masquerade Music Park. The festival was just as it sounded, all about the hops and all about the hogs.
The festival itself was a tad smaller than what you would expect from a beer festival at the Masq, but it made up in quality vendors and an all around good time. The layout included the majority of the festival outside, and lucky for the festival goers, it was indeed a perfect day.
My friend Robert and I decided to catch up and get down with some barbecue. Upon arrival, there's already beer taps and food trucks at your disposal. We decided to start out the day with Lone Rider's Shotgun Betty and tacos from Mobile Marlay. Robert had a shrimp taco, and I had a fish. Definitely a good light snack to get our appetites ready!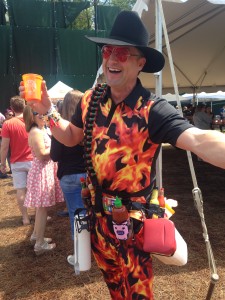 As we walked into the park, we decided to go to DBA Barbecue next for some pulled pork and bacon. DBA Barbecue is the neighborhood joint for Virginia Highlands, and for someone that frequents that area so much, how did I not get to enjoy it until today!? I wanted to go back and get seconds, but alas we explored some more.
The next beer we tried was the Yes Face Brass Monkey. Yes Face is known as the "real ale of Georgia" and as a British Style ale, I wouldn't consider it the real ale of Georgia, but it's definitely a good one. Some people didn't really like it that much, but it's a beer that makes me curious. I'll have it again.
Towards the middle of the day, we noticed that there was a line that was longer than any other line in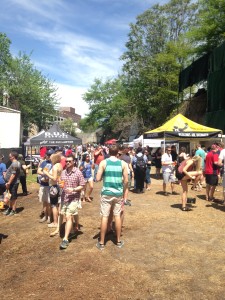 the entire festival. It wasn't for barbecue, or a certain beer. It was for a donut.
The Naked Donut Company started out as a pop up donut shop in 2013. It wasn't certain where the fryer would be, but the company focuses on a nice light cake donut, and add artisinal fixins on top of it, ranging from dulce de leche, raspberry tequila sauce, and bacon. Robert and I had dulce de leche with bacon. I told him, "If the ground wasn't muddy and gross, I'd be rolling on the ground in happiness." They are that good.
After a few more beers, and lots of barbecue, we ended up finding a brewery all by their lonesome in Hell (the section of the Masq, not the fiery pits!). It was a good chance for me to chat with a new face in the Georgia Brewery world, so I met with Bobby of Eagle Creek Brewery from Statesboro.
"It all started out as a New Years' Eve endeavor, the owners had home brews, but they wanted to start their own full on brewery." Bobby mentioned over the loud DJ. He recommended me to have the Low Country Pale Ale. I'm not a fan of pale ales, but I really liked it. It was a good palate cleanser from everything that I had earlier that day.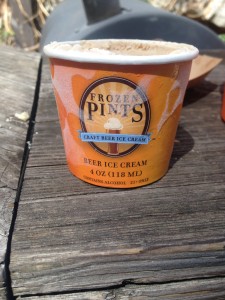 From there, I ended up meeting with the owners of two different food companies that just came onto the radar in Atlanta.
Holly, the owner of Happy Hour Confections was as smiley as every once people were coming over to try out her Vanilla Stout Cupcakes and Margarita cookies. Boozy baked goods aren't just for Pinterest anymore. She mentioned that she likes to, "do the alcohol justice, then think about the sweets." Which I give high respect for, because the beer is the first thing you taste in her stout truffles, and it's awesome.
Brett and Rob were the two gents running Pork Clouds, which was a zero carb, all flavor pork rind company. So it was appropriate that they were there! We tried their Habanero rinds, and they were the perfect amount of spicy for me at least. Not for the faint of heart!
Overall, Hogs and Hops was a great success. The food was wonderful, the beer was great and the company was the best of all. Atlanta is becoming one of those great cities of people where everyone just has a good time. 'Til next year!