Two different lists, but interesting to see the top emojis for the U.S. and the state of Georgia for 2015.
Apalon Apps, a top developer of iOS applications worldwide and an operating business of IAC, has announced the top 10 most popular emojis of the year, based on data gathered around the world from its popular Emoji Keypad app. The data showed that the "face with tears of joy" emoji topped the list, followed by the "smiling face with heart-shaped eyes," and the "thumbs up sign" emojis. While emojis used to express laughter, love, and encouragement dominated nine out of 10 on the list, the "pensive face" emoji broke through taking the tenth spot.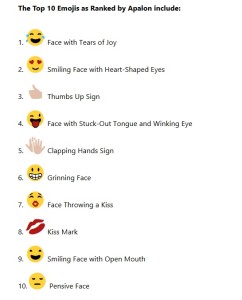 "Over the last year we've seen emojis become one of the most popular forms of self-expression, and it's great to see that the majority of icons used are to share feelings of love and encouragement, whether it's through the emoji 'with heart-shaped eyes' or the 'thumbs up' emoji," said Peter Skoromnyi, Chief Strategy Officer of Apalon.
iOS users can liven up texts with Emoji Keypad using hundreds of custom emoji combos and unique stickers, while typing in a variety of fonts or spelling words with emojis. Released today, Emoji Keypad version 5.6 offers a smarter and sleeker keyboard, with built-in machine learning for more intelligent predictive and mistake-free texting. The update also offers new keyboard styles, as well as modified sticker sizes to fit texting and chat apps and other visual keyboard improvements for a seamless user experience. iPad Pro users will also enjoy enhancements that allow full use of the app on the device's larger screen. Emoji Keypad is regularly available on the App Store for $1.99, but Apalon is offering a 50% discount on the app, on sale for $0.99.
Apalon's portfolio includes well-known titles such as Weather Live, Speak & Translate, and Pimp Your Screen. Learn more at www.apalon.com.
Looking at the state of Georgia. Swiftkey, a company that looks at ways to speed up your typing on a keyboard with predicting what keys you will hit released findings this fall saying a crescent moon face is the top emoji used in Georgia.
Not sure why or the significance of the crescent moon, but it looks pretty cool.
Here again is the top-5 for the entire nation.