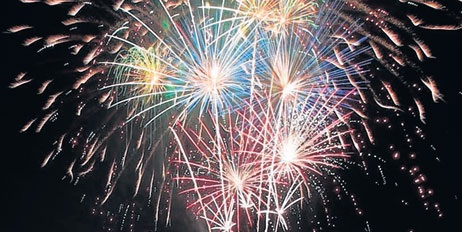 Fireworks will light up the sky all over metro Atlanta on July 4th. Cities and towns, parks, malls and other venues usually do more than set off rockets, sparklers and firecrackers, though. Many also host live music, games and other activities to help you party the day and evening away. Most are free!
4th of July at Centennial Olympic Park. Gates open 6 p.m. July 4. Fireworks begin about 9:40 p.m. Free. Centennial Olympic Park 265 Park Ave. W., Atlanta. www.centennialpark.com.
The "Georgia Salutes America" program and fireworks from Centennial Olympic Park will air on WSB-TV starting at 9 p.m.
The finale of the evening is Centennial Olympic Park's Fireworks Spectacular, Atlanta's best fireworks display synchronized to a special selection of patriotic and popular music.
For a full list of items prohibited at the park visit www.centennialpark.com
Atkins Park Fourth of July Backyard Beer Olympics. 3 p.m. July 4. Free. Atkins Park, 794 N. Highland Ave. N.E., Atlanta. 404-876-7249, www.atkinspark.com.
Atlanta Braves vs. Miami Marlins. Cheer on the Braves then stay around for the fireworks. 7:10 p.m. July 4. $11-$92. Turner Field, 755 Hank Aaron Drive, Atlanta. 800-745-3000, www.Braves.com.
Lenox Square 4th of July. 10 a.m. July 4. Fireworks at dusk. Free. 3393 Peachtree Road N.E., Atlanta. 404-233-6767. www.simon.com/mall/lenox-square.
Red White & Brew. Watch the Centennial Olympic Park fireworks from the roof of the Georgia Aquarium. 6-10:30 p.m. July 4. $55, 21 and older only. 225 Baker St., Atlanta. 404-581-4000. www.georgiaaquarium.org.
Around the area:
Alpharetta's July 4th Fireworks and Festivities. Children's activities and entertainment on the lawn behind the Alpharetta Community Center (175 Roswell Street) 6-9 p.m. July 4. Fireworks begin at dusk, rain or shine. 6-10 p.m. Free. Wills Park 1825 Old Milton Parkway, Alpharetta, 678-297-6133, www.alpharetta.ga.us.
Auburn July Fourth Festival & Fireworks. 5 to 11 p.m. June 29. 1369 Fourth Ave., Auburn. www.cityofauburn-ga.org.
Six Flags Over Georgia in Austell. Thrilling rides and attractions, fun games and fireworks show. July 4. Fireworks begin at 9:30 p.m.
Mall of Georgia 11th annual Fabulous Fourth in Buford. Kids Zone opens 2 p.m. July 4 for games, water balloon toss. 2 p.m. events begin. Fireworks begin at dusk. Free. Post-fireworks screening of "Playing for Keeps" (rated PG-13). Mall of Georgia, 3333 Buford Drive, Buford. 678-482-8788, www.mallofgeorgia.com.
Calhoun – The Star Spangled Celebration has been postponed until Sept. 7. www.northwestgeorgiaregionalfair.com
Chamblee Fourth of July Celebration. 5 p.m. July 4. Free. Keswick Park, 3496 Keswick Drive, Chamblee. 770-986-5016, www.chambleega.com.
Covington – Independence Day celebration moved to July 6. www.downtowncovington.org
Cumming's July Fourth Celebration. July 3-4. Cumming Fairgrounds, 235 Castleberry Road, Cumming. www.cummingfair.net.
Decatur's July 4th Pied Piper Parade. Decorate your wagon, ride your bike, skate or walk in this parade. Fireworks begin about 9 p.m. July 4. Parade line-up is at the First Baptist Church of Decatur at 5:30 p.m. Parade begins at 6 p.m. and ends at the Community Bandstand on the square, with a concert by the Callanwolde Concert Band at 7 p.m. Free. 404-371-8386, www.visitdecaturgeorgia.com.
Duluth Celebrates America. 4 p.m. July 3. Free. Scott Hudgens Park – River Green Business Park, River Green Parkway, Duluth. 770-476-3434, www.duluth-ga.com.
East Point Hometown Celebration. An old-fashioned carnival with a carousel, Ferris wheel, rides, games. 5-11 p.m. July 4. Free. 2757 Main St., East Point. 404-270-7059, www.downtowneastpoint.com.
Thursday Thunder and Fireworks at AMS in Hampton. NASCAR's stars of tomorrow race in Legends and Bandolero cars. Kid-friendly environment includes autograph sessions, a rock climbing wall and more. 6 p.m. July 4. $6; ages 6-11 $2. Atlanta Motor Speedway, 1500 N. U.S. 41, Hampton. 770-946-4211, www.atlantamotorspeedway.com.
Heard County Chattahoochee Independence Day 4 p.m. July 6. Downtown Franklin. www.heardchamber.com
Henry County Fourth of July Fireworks Extravaganza. 3 p.m. July 4. Nash Farm Park, 4361 Jonesboro Road, Hampton. www.henrycountybattlefield.com.
Kennesaw's Salute to America. July 3 Fireworks have been postponed due to weather. No new date has been set. www.kennesawjuly3.com.
Sparkle in the Park in Lilburn. Music, food and fireworks. A1A, the Jimmy Buffett Tribute Show, will have a family-friendly concert. Bring a lawn chair or blanket. 4-10 p.m. Postponed to Sept. 1. Free. Lilburn City Park, 76 Main St., Lilburn. www.cityoflilburn.com.
Marietta Freedom Parade and Fourth in the Park. The parade begins at 10 a.m. July 4 at Roswell Street Baptist Church and ends at North Marietta Parkway. Festival starts after the parade with food concessions, music, arts and crafts and carnival. 10 a.m.-9 p.m. July 4. Free. Fireworks at dusk. www.mariettaga.gov.
Norcross Independence Day Celebration and Mother's Finest Concert. 4 p.m. July 3. Free. Lillian Webb Park, 5 College St., Norcross. 678-421-2000, www.norcrossga.net.
Roswell's 14th Annual July 4th Fireworks Extravanganza. Music starts at 6 p.m. with Banks & Shane performing starting at 7:30 p.m. Fireworks at dusk. 5:30 p.m. July 4. Roswell High School, 11595 King Road, Roswell. 770-641-3705, www.roswellgov.com.
Fantastic Fourth Celebration at Stone Mountain Park. Enjoy the Lasershow Spectacular, followed by a fireworks July 4-6 on the lawn. Begins at dusk. $10 daily parking pass or $35 for annual parking permit, U.S. 78 E., Stone Mountain. www.stonemountainpark.com
Credit WSBTV