Ponce City Market is a historic building built in 1928 that's currently being revamped to host retails stores, restaurants, boutiques and office space for business.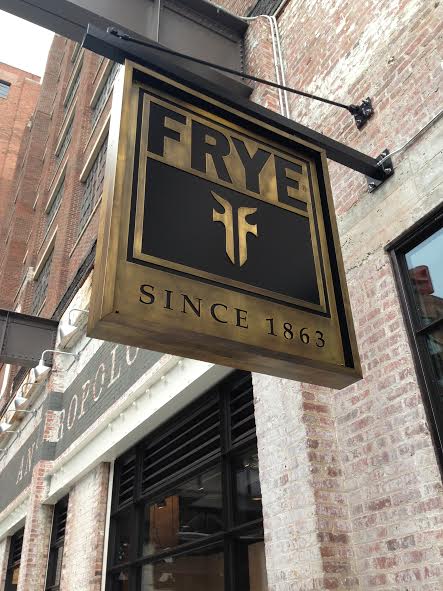 The oldest operating American boot manufacture, "The Frye Company", opened their new Atlanta location inside Ponce City Market this past weekend. We here at GAFollowers had the pleasure of visiting Frye before opening. One amazing insight about Frye's new flagship location is the heritage and craftsmanship that's embedded in the store's design and products.
Everything was made from hand.
Frye's most dramatic feature is an enormous installation known to the brand as the "chandelier", consisting of 7000 leather straps holding Frye's signature harness rings.
Just left @TheFryeCompany's soft opening at @PonceCityMarket in Atlanta. They'll be opening up tomorrow! 👞👢👞👢 pic.twitter.com/e7KEWVczpZ

— Everything Georgia (@GAFollowers) August 6, 2015
Rooted in tradition, Frye was originally inspired by our everyday American heroes over the decades. Cavalry infantrymen. World War II soldiers. Fighter pilots. Factory workers. Frye traveled the world on the feet of our servicemen – even General Patton himself.
News of Frye's outstanding quality and reputation spread. Frye has since become an American icon, outfitting many of the world's biggest names. Chosen for its inimitable style and uncompromising quality, Frye is a longtime favorite of rock stars and celebrities alike. Celebrities of all sorts are known to wear FRYE boots, from Jessica Alba, Miley Cyrus, to Kendall Jenner.
Visit the Atlanta store, when you can! It's a 4000 square ft space on the center's main level, is located within the retail arcade. If you need an address it's, Ponce City Market at 75 Ponce de Leon Ave NE Atlanta, GA 30308, Ste. #E178. For more information, call 404.685.FRYE(3793) or visit www.thefryecompany.com.
Facebook: Facebook.com/TheFryeCompany
Instagram: @theyfryecompany
Twitter: @thefryecompany