A few weekends ago I had the privilege of visiting the luxurious Sea Island on the coast of Georgia. Technically this was my second time in the Brunswick/St. Simons area the first being a time I visited Savannah and accidentally drove south on I-95 for an hour instead of north.
My friend Samantha and I left from a rainy Atlanta on a Friday night. The drive ended up taking a smooth 5 hours but luckily a Zaxby's plate and my Tupac playlist saved us and expedited the duration of the trip. All in all it was definitely worth it. We ended up arriving at The Inn on Sea Island around 1am, we immediately fell asleep because there was a long day ahead of us.
Sea Island is one of the richest zip codes in the state of Georgia and features some of the most expensive homes that this state has to offer. Between The Cloister, The Inn & The Lodge, people traveling to Sea Island have a few different options to relax at in style. The Inn is a Spanish Mission-style hotel with coastal interior decor, our room was very cozy and came equip with cable, free WIFI & a mini-fridge.
I woke up around 7am on an overcast Saturday to try the complimentary continental breakfast offered near the hotels' lobby and watched the tracking of Hurricane Fred. After I finished breakfast, I returned to my room and put on clothes to go visit the pier with Samantha. Little do you know, I get really excited about seeings monuments and other important historical structures so I was excited after we parked directly in-front of the famous St. Simons Island Light.
Originally built in 1810, the lighthouse was destroyed by the Confederates after Union soldiers infiltrated the area in 1862, it was later rebuilt in 1872, this is the one that stands today. The Confederates destroyed their own lighthouse to prevent the Union warships to figure out exactly where the Confederates were located. Now it's one of the most iconic monuments in the state of Georgia.
After wandering around St. Simons 'Pier Village' for awhile we decided to get mimosas from a place called Palm Coast Coffee Cafe. The atmosphere was perfect, a nice chill spot to catch up with a lovely friend over a cup coffee & a bagel to chat about life, I definitely recommend Palm Coast if you're in the area!
Once we finished up at Palm Coast, we strolled through the village a little more and walked towards the pier where people were fishing, mostly catching minnows and shrimp. Pelicans like to sit on bannisters of the pier because people tend to pitch fish at them so they're literally not phased by human interaction at all, which allowed us to get close for a picture.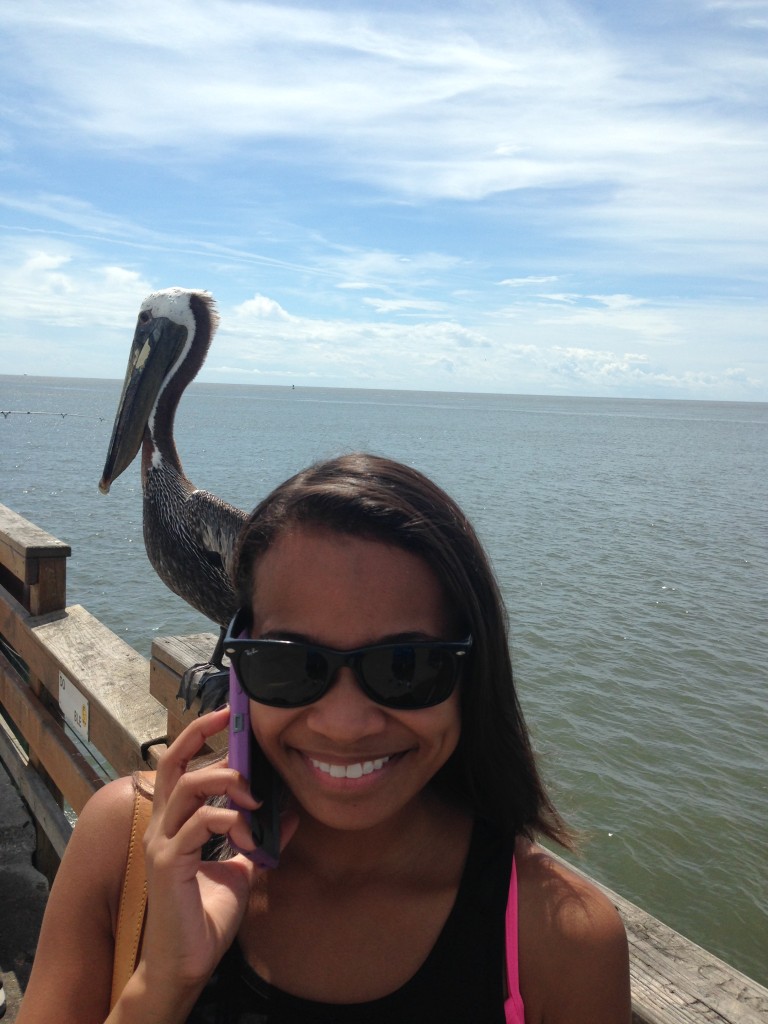 After that, we hurried back to the hotel to change because we were scheduled for some fun in the sun. Honestly, this was probably one of the most lavish activities I've been apart of in my 25 years of life. It was time to ride stallions along Sea Island's beach shore.
When we arrived Samantha & I were graced with the only two white horses available. This was her first time riding a horse & my second. The ride wasn't difficult at all though, the horse keepers were nice and provided us with a quick tutorial before riding. We began by riding our horses in a single file line down a beach trail, this only took about 10-15 minutes, the scenery on the way to the beach was breathtaking. Like I previously stated, I'm a big fan of seeing amazing things with my own two eyes. Once we reached the beach I was so happy that I was able to register the images I was seeing in my mind, definitely something I will never forget. Literally, no one else was on the beach, the weather was perfect and the only thing I remember hearing was wind passing me and waves splashing against the shore. It truly felt like the ending off a book..
After finishing we were exhausted, so we headed back to the hotel to rest up. The last time we ate was in the morning so we set up a reservation at an Italian restaurant called Tavola located at The Cloister hotel on Sea Island. This place was amazing, the atmosphere was calm, the lights were dimmed which created a intimate feel, classy attire is definitely recommended. The view was remarkable, we sat facing the water and watched the day turn into night. After a few drinks we ordered our entrees created by Chef Robert Reynaud, Samantha ordered 'Risotto' which featured Kobe beef, parsnips and truffle and I ordered 'Linguini' which contained, Georgia shrimp, sea scallops, calamari & crabmeat. Both of us were satisfied with our meals.
We decided we wanted to get a few drinks before heading back to the hotel. We stopped by a local bar/cantina called, Bubba's Garcia's and danced around for awhile. The people were friendly, some even stopped to take pictures with us. We even ran into Chef Robert (Bobby) again! The evening turned out pretty awesome, we headed back to the hotel to get some rest for our drive Sunday morning.
What we experienced was only a sliver of what this 5 star luxury resort has to offer. From Sea Island's beautiful scenery to their luxurious properties, it makes the perfect place to visit for an anniversary or to rekindle a flame in a relationship. We enjoyed our stay! The service from Sea Island employees was exceptional, they were all nice and made sure we were accommodated.
Don't believe that Sea Island is amazing? Visit SeaIsland.com to see for yourself, you can golf, play tennis and a host of other things all awhile being right next to the water! I had a great time and can definitely see myself coming back very soon!