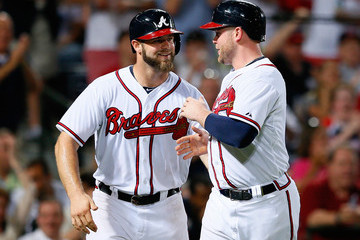 [poll id="8″]
Brian McCann has been one of the more beloved Braves players since his rookie season in 2005 and his role continues to grow and change with every passing season. This is evident from the 2013 season as he seemed to relish the role of being "The Law". For those that don't know Brian McCann was at the center of a number of scuffles during the regular season, most notably taking exception to Carlos Gomez barking around the bases at pitcher Paul Maholm on September 25, 2013. He is most definitely a leader in the club house & also on the field, his teammates will go to war for him & he will do the same for them. Baseball is a game of inches & chemistry and letting Brian McCann can cause a huge shake up in the club house & will require one of the other players to step up and fill a leadership role. Many wonder if rookie phenom Evan Gattis can do the same things McCann has done in his last nine seasons with the ball club.
Evan Gattis came onto the scene after a somewhat troubled past, he abandoned his scholarship at Texas A&M University due to anxiety issues and substance abuse problems. He spent four years wandering around the western part of the United States before returning to baseball and being drafted by the Atlanta Braves back in 2010. Gattis had a good spring training and eventually was called up to the majors due to a need at the catcher position due to the early season injury of starting catcher Brian McCann. Gattis stepped up to the big leagues and became an instant impact player, and began to gain a following throughout Major League Baseball. Gattis can hit with the best them, though he still needs some improvement on the defensive end whether he's in Left Field or at Catcher. His role with the team is more of an offensive spark than anything else, but he's still relatively young as far as MLB tenure is concerned and he can still improve all aspects of his game.
Now let us get to the purpose of this article, to decide whether or not we should re-sign McCann or just keep Gattis and make him the everyday starting catcher. Let's take a look at both of their rookie season batting stats, McCann played in 59 games and batted a respectable .278 with 5 homeruns and 23 runs batted in. Gattis played in 105 games batted .243 with 21 homeruns and 65 runs batted in. The results are slightly skewed since McCann played less than half amount of games as Gattis did during his rookie campaign, but as these few stats show they both can provide a spark on the offensive end. McCann has improved over each of his nine seasons & there is no reason that Gattis can't do the same, as of right now the only thing we lose from letting McCann walk is a proven leader in the club house.
The Atlanta Braves had the 16th highest payroll in Major League baseball with 89,778,192 at the start of the 2013 season, Brian McCann was 12.47% of that pay roll. McCann made 12,000,000 at the conclusion of the 2013 season while Gattis made 490,000. Brian McCann is now a free agent and is expected to command a deal of 6 years and upwards to 100,000,000. Since the Braves just made a huge free agent signing of BJ Upton worth 9,750,000 in the year 2013 alone and also Dan Uggla is still owed 26,000,000 over the next two years. If the Atlanta Braves are smart they will let McCann walk and save some of the salary cap and go after an all-star caliber pitcher or a couple of veteran pitchers in the off season.
I personally feel that letting McCann walk is the best move for the Atlanta Braves future, yes you lose a leader but that's when another steps up and takes the torch just like they did after Chipper Jones retired. Yes, you are handing the keys over to a somewhat relatively proven new catcher but barring any unforeseen set-backs this is risk well taken. Financially is makes the most sense for the Braves to let McCann walk because we can't afford him and also to trade Dan Uggla but that's another matter entirely. Yes, the move will hurt but it's better for our team as a whole. I did not mention the playoff numbers for both of these players, but if you need further convincing to why McCann should leave and Gattis should stay they proof is in the stats. Gattis batted .357 with 14 at bats during the playoffs this season & McCann batted .000 with 13 at bats. While it remains to be seen whether or not Gattis will duplicate these numbers next season, I think it's a risk worth taking. Let McCann walk and let's make Evan Gattis our everyday starting catcher.
Special Thanks To Dwayne Stocks