The first time I passed this place on the highway, I asked my husband, "What the heck is that?" There was a large teepee out front and due to that, so we wrongly assumed that it was a Native American Reservation. Of course, later that night, I looked up their website and found that it was in fact a large park with trails, a huge playground, camping, a BMX track, and…a zoo.
I couldn't believe my eyes – I am now living five minutes away from this gorgeous location with so much to do! As soon as we got settled in, we made a trip down the road to check it out. (Thanks to the Lee County Library System, we were also able to check out zoo passes which got us into the park for free as well!)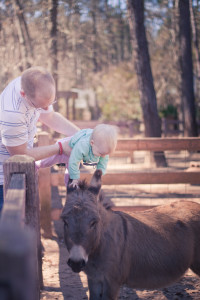 What we liked best: Obviously, the kids loved the zoo. The animal exhibits were very informative. We learned about everything from eagles to rattlesnakes. Our favorite animal of the day was the meerkats – they were so interactive with everyone and acted as if they all wanted to come home with you. The employees of the park were very friendly and courteous. The other visitors were also very friendly. The park was well maintained and all of the trails and walkways were clear of debris and trash. The kids loved the play park and begged to bring their bikes back soon for the BMX track. The park also has the space and facilities to host a variety of events and parties. Mia especially loved the petting zoo, though only one animal was brave enough to let a baby pet it.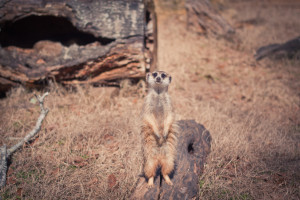 What we missed: We would have liked to see more employees in the park – it was if we were the only ones there besides the lady at the gift shop until more zoo-goers arrived. Some of the animals were asleep, which was at no fault of the zoo, but it would have been cool to see them. They're also working on a new exhibit it seems, so we'll be looking forward to that. We would have loved to pet the meerkats, but we learned later from Google that they may not be so friendly because they bite. We wasted a couple quarters trying to feed some of the animals. The train also was not running yet, and we would have loved to take a ride on that – our boys were extremely bummed about that.
Overall, we really enjoyed our trip to the zoo. It was a beautiful day, and we were able to really enjoy ourselves as a family. We are looking forward to enjoying more of the facilities at Chehaw Park, and returning to the zoo for another visit as well.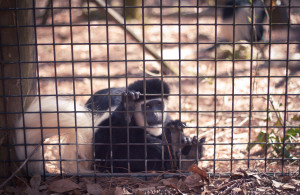 All photos are courtesy of Tara Glenn.
For more information on Chehaw Park , please visit: http://www.chehaw.org.
For more information on the Lee County Library of Georgia, please visit: http://www.leecountylibrary.org.