UPDATE: The Department of Justice has closed the investigation and decided that no charges will be filed in Johnson's death. DOJ officials insist that there is "insufficient evidence" to prove anyone willfully harmed the teen and placed him in the gym mat. 
"The Department of Justice, in particular the lawyers and investigators who have worked tirelessly on this investigation, express their most sincere condolences to Kendrick Johnson's parents, family, and friends," said Acting United States Attorney Carole Rendon. "We cannot imagine the pain of their loss, or the depths of their sorrow. We regret that we were unable to provide them with more definitive answers about Kendrick's tragic death."
While the case is closed there are still a lot of questions surrounding Johnson's death. Unfortunately, it seems there won't be any closure for Johnson's family regarding this unspeakable tragedy. 
———————————————-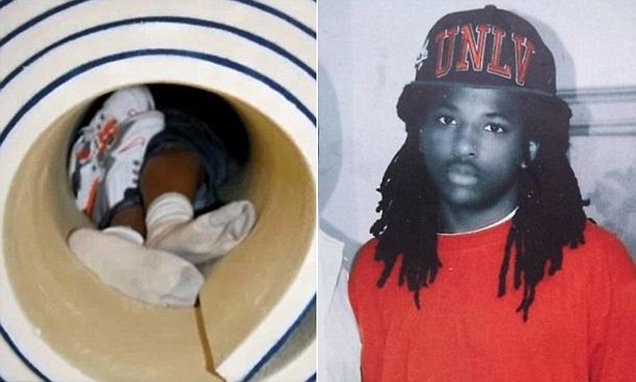 Kendrick Johnson's parents are anxiously awaiting to hear the details of the federal investigation in their son's death and whether or not charges will be brought up.
For those unfamiliar with the case, Kendrick Johnson was absent from classes on January 10th, 2013. The next day, the Lowndes High School student's body was found rolled in a gym mat. According to local law enforcement, there were no witnesses. State and local investigations concluded that Johnson's death was accidental. They theorized that Johnson had gotten stuck trying to reach for a pair of sneakers inside the mat. It's a story that simply didn't sit well with Johnson's family and the public didn't seem eager to accept that theory either.
To add to the confusion and skepticism, several of the cameras that would have captured Johnson's final moments seemed to have malfunctioned around the time of the incident with entire frames of video inexplicably missing from the files detectives obtained.
Upon receiving the initial autopsy findings and not satisfied with the conclusion, the family ordered an independent autopsy. The results from the private pathologist were that Johnson suffered "unexplained, apparent non-accidental blunt force trauma" to his neck.
The pathologist surmised that Johnson's death was the result of homicide.
Johnson's parents have been adamant that foul play was at work when their son died. They have accused the GBI, local law enforcement and school administration of conspiring to cover up their son's death; accusations pointed to Johnson's classmate, Brian Bell, in a civil lawsuit. Brian Bell is the son of an FBI agent, which caused even more eyebrows to raise after Bell was cleared by the FBI in March of having any involvement Johnson's death.
Johnson's parents are meeting with prosecutors this afternoon in Macon at the U.S. Attorney's office.
We will provide updates as more details come in. Read the Wikipedia page for more.