A significant winter storm will take shape beginning Friday over the Southern Plains and Texas, then spread this weekend through the Southeast and Mid-Atlantic.
How far south freezing air will reach remains an open question, making it difficult to precisely forecast ice and snow accumulation
Winter storm watches are already in place Thursday for 6 million people in northern Texas, Oklahoma, and parts of Arkansas and Missouri.
As the storm develops, forecast models will more accurately predict the freezing line and thus the type of precipitation places will experience, CNN meteorologist Brandon Miller said.
Here is what CNN meteorologists expect, where and when: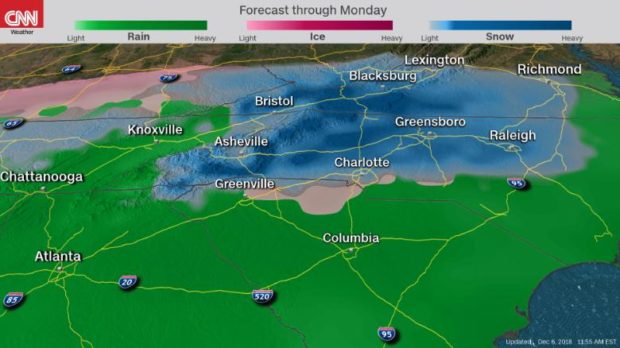 Timing: Saturday morning through Monday morning
Precipitation begins to creep into the region early Saturday morning, with rain in Georgia and some light, wintry precipitation in the mountains.
From there, things get interesting. The situation will begin to pick up Saturday afternoon, with larger accumulations Sunday into early Monday morning.
Record snow, blizzard conditions, wintry mix
A significant amount of snow across the mountains of North Carolina, South Carolina and northeast Georgia is expected but not certain.
If warmer air mixes in, it could lessen the amount of snow that accumulates. It all depends on a regional weather phenomenon called "cold-air damming" — when cold air is forced from the northeast and pushes against the Appalachians. The mountain range acts as a dam, keeping the cold air pooled like a lake.
This shallow layer of cold air allows for freezing temperatures to remain near the surface as warmer, moist air moves over it. If the air column stays cold enough near the surface and extends high enough into the atmosphere, moisture will fall as snow. If air above freezing gets into the middle layer, there is a greater chance for ice pellets or even a wintry mix.
via CNN
---
Check out our Atlanta United gear.