On Saturday, April 22, more than 30,000 participants, volunteers and spectators nationwide will unite to run or walk in honor of former NFL player and military veteran, Pat Tillman. Tillman, who left the NFL at the height of his athletic career to join the US Army, was killed in Afghanistan on April 22, 2004 (U.S. Army's 75th Ranger Regiment).
The Tillman Honor Run is a nationwide effort of groups and organizers in major cities throughout the U.S. that simultaneously participate. The Tillman Honor Run in the Atlanta area is hosted by the Atlanta Alumni Chapter of Arizona State University. The run is an annual event hosted in late April to commemorate the day that Pat lost his life, and, symbolic of the number 42 that he wore as a Sun Devil football player at Arizona State University, The Tillman Honor Run is exactly 4.2 miles long in each city where the event is individually scheduled.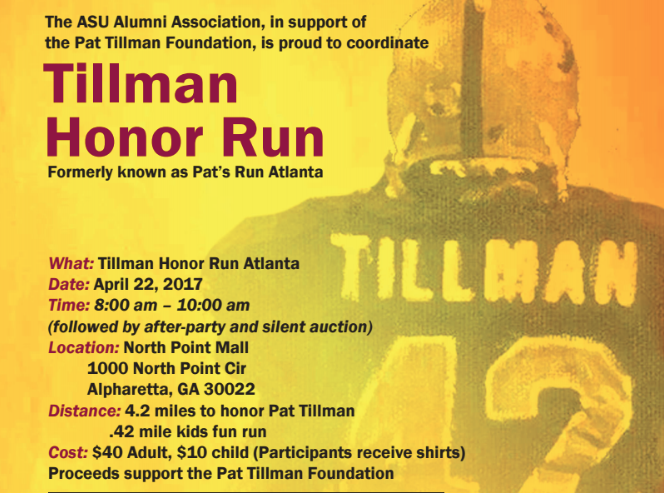 All funds from the metro Atlanta-based event Charity Run directly support The Tillman Military Scholars program, which provides scholarships to U.S. military veterans and spouses who reflect Pat's values, strength of character and commitment to service.
To register for the Tillman Honor Run in Metro Atlanta, scheduled for April 22nd at 8AM at North Point Mall (1000 North Point Circle) in Alpharetta, GA, please visit here. 
Registration is $40/adult & $10/child (includes shirt).