The Ford Motor Company and the Charles H. Wright Museum of African American History will present the 18th Annual Ford Freedom Awards, Honoring Men of Courage on Tuesday, May 17, 2016. This historic evening will center around the excellence of African American men. This years honorees are retired Hall of Fame Basketball player and former Detroit Mayor Dave Bing, business pioneer and Wall Street lawyer Reginald F. Lewis (posthumously) and prison reform activist and New York Times Best Selling Author Shaka Senghor.
The evening will follow the theme of "Advancing the Narrative of African American Men", and will pay tribute to several men of color through song, praise and accolade. The Freedom Award site has also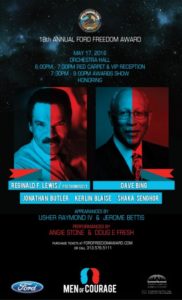 claimed this to be, "the largest major awards show to exclusively celebrate the successes and contributions of African American men in the country."
The show has also added a new highlight entitled the Ford Courage Award. This award will honor three individuals, in the areas of family, community and sports. The recipients of these awards will be president and owner of Blaze Contracting and former Detroit Lion Kerlin Blaise, University of Missouri graduate student and activist Jonathan Butler and Shaka Senghor.
The show will include performances by Grammy nominated singer Angie Stone and hip hop legend Doug E. Fresh as well as special appearances by NFL Hall of Famer Jerome Bettis and Grammy award winning artist Usher.
The Ford Freedom Award program was founded in 1999 by the Ford Company and Charles H. Wright Museum. The award shows mission is to create a forum that celebrates and recognizes individuals whose achievements have made lasting and positive change for African Americans and the world.