Kixfair, Atlanta's premium sneaker convention, returns this Saturday to the Dorough Field House. In honor of this glorious day, we have teamed up with Kixfair to give out a pair of free "Oreo" Jordan 4s + 2 tickets to attend this year's event. Yes, you read correctly…. FREE!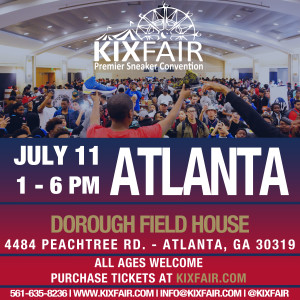 For those unfamiliar with Kixfair, they differ from any other sneaker event currently in the country. They provide sneaker enthusiasts a fun, informative and most importantly unique way to interact and learn about the sneaker community. It makes for an experience like none other where you can learn and win prizes in a fun environment. Oh yeah…. If you think this giveaway is sweet, wait until you see what's being given away at the event! Tickets are still available here.
Air Jordan IV "Oreo" Giveaway Rules
Tweet "#Kixfair @Kixfair @GAFollowers"
RETWEET this tweet.
Winners will be selected at random at 11 p.m. EST 7/10.
*winner must be able to attend Kixfair to pick up prize