New Year's Eve is peeking over the horizon and if you're planning an expensive trip to another city to ring in 2017, you may want to reconsider.
A WalletHub study revealed that Atlanta is actually one of the best cities in the country for New Year's Eve celebrations.
Georgia's busiest city came in at number three on the list, beating out cities in New York and even topping Vegas.
The WalletHub study took a look at safety, accessibility, food and entertainment as well as affordability. With all those things considered the top five cities turned out to be Orlando, San Francisco, Atlanta, Denver and Buffalo, NY respectively.
Surprisingly, Vegas came in at number 10 and New York, NY was farther down the list at number 38.
What may be less surprising, however, is that it was ultimately New York's sky high costs that contributed to it being knocked so far down the list. The only city that was deemed even more expensive than New York City was North Las Vegas, which came in at a rather embarrassing number 100.
So other than being affordable and being a haven for foodies, what makes Atlanta such a great New Year's Eve destination ?
If you're thinking the Peach Drop at Underground Atlanta is the only thing the southern capital has going for it then you need to explore the ATL a little more.
Football fans from all across the country will be coming the Peach State for the Chick-Fil-A Peach Bowl that will pit the Alabama Crimson Tide against the Washington Huskies.
If you want to get down with the hipsters then head on over to the Roaring Rooftop Bash being held at Ponce City Market.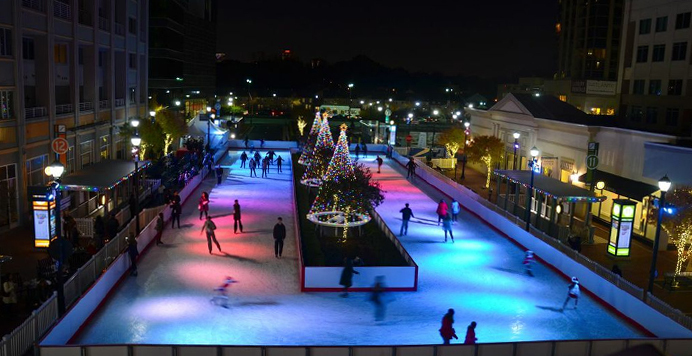 Tons of amazing ice skating rinks will still be operating for the New Year's celebrations so you're more than welcome to just celebrate the winter spirit and share a kiss on the ice at midnight.
Other amazing New Year's Eve celebrations include a huge New Year's Eve bash at Buckhead Saloon and the Atlanta Social Club's Buckhead Ball at the Grand Hyatt Atlanta Buckhead.
If you're not looking to spend the night out on the town, Atlanta's affordability means a lavish staycation is even in the budget for college students.
Downtown hotels like the Omni Hotel and the Westin Peachtree Plaza have been popular options for those bringing in the New Year in the Peach State.
Find your New Year's Eve celebrations here: