FOX 5 has done a great job of covering this breaking story here: https://www.fox5atlanta.com/news/midtown-triple-shooting-atlanta-taxi-driver-drove-suspect-airport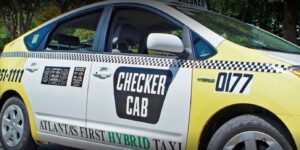 From Rick Hewatt, owner of Atlanta Checker Cab:
Atlanta Checker Cab is proud of our staff. Driver Patrick Maneio and our Dispatcher Lauren Hewatt who yesterday helped the Atlanta Police Capture the Midtown Shooter. Yes our driver transported her from 188 14th St. to ultimately the Atlanta Airport International Terminal. Our Driver and dispatcher stayed on the phone with Atlanta Police helping them Identify the perpetrator during the transportation to the Atlanta Airport! Thank God they were safe!
GREAT JOB! Patrick and Lauren. Atlanta Checker Cab is proud to serve the City of Atlanta and Atlanta Police for 75 years now!
The city of Atlanta and particularly Midtown was put on alert.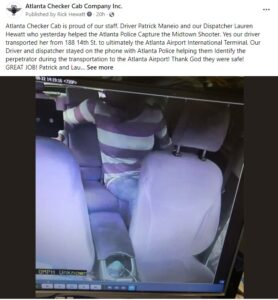 Quick thinking and video cameras in the cabs, saved the day!
Dispatcher Lauren Hewett said police had called her after they realized the suspect had gotten into one of their cabs.
"I had called every single driver that we had that was in the Atlanta area and asked them if they had a passenger in the car who was female," said Hewett. "He was the only in the whole city one who did."
The driver spoke with Hewett with the police on the other line.
The cab, which has a GPS tracker in it, is how we believe police found her.
The video shows her pay and climb out at the cab at the terminal, before grabbing her briefcase from the trunk.
Moments later, police took her into custody without further incident.
Great job all!