Terminus is the original name for the city of Atlanta, and the company is making Georgians proud. This morning, March 15th, 2016, Terminus announced $7.5 million in Series A funding to accelerate their already white-hot B2B marketing business.
The three co-founders: Eric Vass, Sangram Vajre and Eric Spett (pictured above) have quickly established Terminus as the market leader in Account Based Marketing. Since launching 11 months ago, Terminus has added over 130 customers, hosted 4 #FlipMyFunnel conferences and grown to $1.5 million in Annually Recurring Revenue.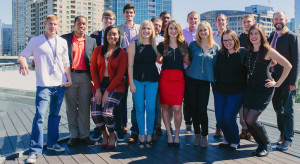 The real winner here is the City of Atlanta. With the fresh cash, Terminus plans to grow their team (pictured above) and add at least 30 jobs this year. Terminus is yet another example of entrepreneurial success in Atlanta, the start-up hub of the South.
More About Terminus:
Founded in 2014, Terminus is an account-based marketing platform that enables B2B marketers to target accounts, engage decision-makers, and accelerate marketing and sales. Terminus is headquartered in the Atlanta Tech Village. Learn more by visiting their home page.