Everyone cares about something. For some, it's a philanthropy, community project or suffering family member. For others, it's a passion, political stance or neighborhood project. Brawl for a Cause allows everyday folks to literally fight for what they believe in most, while raising substantial funds and awareness for a cause close to their hearts.
On November 25, Buckhead Brawl will be showcasing 20 Brawlers fighting over donation dollars to benefit a cause they choose. The charity-boxing event will be hosted by the Buckhead Grand Hyatt. Attire is black-tie (optional, but recommended), and we are pulling out all the stops: red carpet, velvet ropes, exotic cars, open bar, beautiful belles, casino games, live musical entertainment and much, much more.
The event will be hosted by GAFollowers' own funny man, Ronndell Smith, Miss USA 2010 and philanthropist, Jessica Black, and professional boxer and entrepreneur, Preston Halliburton. A slew of classy and beautiful Belles of the Brawl (commonly known as "ring girls" at other events) will accompany our hosts between each round of action-packed boxing to showcase clothes from local boutiques sponsoring the event. Plus, we'll have a DJ spinning tracks and rocking the brawler's walk-out songs all night long.
Spots on the card are full, but you can donate to the event or the causes we support by visiting this link!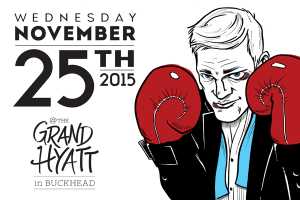 After every ticket purchased, we will prompt you to put a donation into the cause pot you support. You can donate into multiple and the more funds raised through this platform, the more will be on the line for the brawlers, and the more exciting the fights will be for everyone. Please donate to these causes and benefit those who cannot fight themselves!
General Admission is $45
VIP is $90 and includes:
Open Bar
Exclusive Ring-Side Area
100 Casino Game Chips for Craps and BlackJack
Brawl for a Cause t-shirt
We are also offering an exclusive block of rooms in the hotel for that night. If you're interested, reach out, and we'll hook you up with the sign-up. Mark 11/25 on your calendar, and we'll see you there!