The second annual Buckhead Brawl commenced last Wednesday at the Buckhead Westin, stapling itself as the iconic Thanksgiving Eve event to happen in Atlanta, Georgia. Matt Thomas, well known philanthropist and orchestrator of the Brawl for a Cause series, brought together Buckhead's new wave of influencers for this generations most unique charity fundraiser. Guest elegantly dressed to a tee for the black tie affair enjoyed casino games and drinks while alumni boxers returned, reminiscing their time in the ring as they watched the next era of champs duke it out.
This slideshow requires JavaScript.
Brawl For a Cause pairs off twenty every-day people who fundraise and literally fight for a cause they believe in. The event has grown into a community of friends and family welcoming new comers to a diverse set of altruistic people that have helped raise $80,000 for charities to date. Meet some of the Heroes and Heroins of the 2016 Buckhead Brawl.
This slideshow requires JavaScript.
Sam Konisberg and Kelsi Deel
Sam Konisberg made one of the greatest influences and biggest impacts in this year's Buckhead Brawl. Konisberg volunteers at the City of Refuge, a safe house for women and children located on the west side of Atlanta. Atlanta is one of the top five cities in America for human sex trafficking and Konisberg strives to help end sex trafficking. He played a greater role than fighting in a ring to make this possible.
Prior to the event, Saturday Novermber 5th, Konisberg helped coordinate a service project at the City of Refuge. Not only did brawlers attend take part of a hands on a building project, Kelsi Deel, president of House of Cherith organization at City of Refuge, became inspired. At the end of the days work, Deel decided to add herself to the list of fighters.
Konisberg and Deel both threw their hands in the ring and won their bouts. Collectively, the two will raise over $20,000! Hats off to these two Georgians for their effort and making an impact.
This slideshow requires JavaScript.
Robert French
One of the most exciting fights was Rob "The Pretty Boy" French's bout. French made his return to Buckhead Brawl for the second year in a row. The energy in the room grew immensely as French made his grandiose walk out to the ring.
French did work in and out the ring. Not only did he win his bout, but raised $3,000+ for the Start with One Kenya foundation, again! French has been involved with and made contributions to the Start with One Kenya foundation for years. The organization provides water filter for villages in Kenya.
Congrats to Rob for helping knock out dirty water!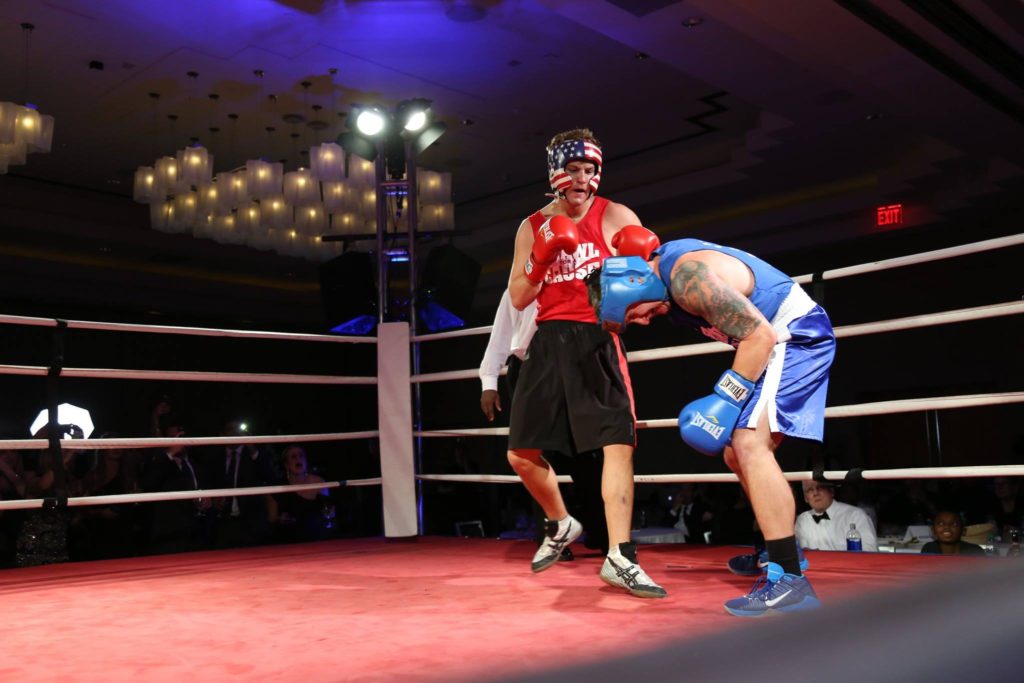 Much recognition goes out to all of the fighters for fundraising and participating. Special shouts out to co-host comedian Ronndell with Two N's, the founder of Witty and Pretty and Bros Being Basic, Ashley Hesseltine, and Preston Haliburton. Salute to Grammy award-winning DJ Babey Drew for being on the ones and twos and special guest and actor Rance Nix for helping promote and be a part of the event. To the many donors and people who attended, we commend you as well and wish you happy holidays!
For more information about Buckhead Brawl and Brawl for a Cause, visit www.brawlforacause.com and follow them on social media @Brawlforacause.
This slideshow requires JavaScript.