Evan Rosenberg is an affluent Southern gentleman with access, influence, and is the most interesting man in Georgia. Some know Evan as a bar owner. Athletes refer to him as an agent and he also serves the people providing legal representation. Evan is a world traveler that carries an air of mystery wherever he goes. He's the man everyone wants to know but never knew to look for, until now.
I first met Evan through Parker Lipman, a young aristocrat and mutual friend. Parker and I were bouncing around Athen's bar scene when Parker says to me "Let's go to Silver Dollar. I want you to meet the owner." I anticipate meeting someone overly dressed in name brand, designer clothes. That, or an old guy in a snake skin belt with heavy cologne. Much to my surprise, Evan turned out to be extremely young and plainly dressed in the infamous Athen's douchebag getup. Yet, I never sensed pretentiousness. There was pride in his posture but not arrogance. He was extremely cordial and offered us drinks. I was fascinated but in disbelief that someone so young owned such a successful establishment.
Since our first encounter, Evan is consistently the same person. Overtime, we would run into each other at Big Sky Buckhead and a few events. Unintentionally, I connected with more of his network and wondered how he affiliated himself with such a diverse group of people with different career backgrounds. It wasn't until I began following Evan on Snapchat when more of his identity was revealed.
Evan is a quiet socialite. He frequently travels making stops in two, sometimes three cities all within a week. While pursing his Juris Doctorates, Evan would share views from different offices, him hanging with celebrities, going backstage, and of course hanging out with some of the most gorgeous women. He previously dated a princess of a foreign country. His life is so exiciting I once DM'd him "Who the f*ck are you?"
Evan invited me up to the 42nd floor of his office located in Downtown Atlanta for a sit down. This time, he was dressed in a custom tailored suit made in Bali. Over the course of thirty minutes, I listened to Evan Rosenberg and learned he has clear understanding of himself, business, and the world around him.
It is our pleasure to offer this exclusive piece on one of Georgia's Rising Leaders.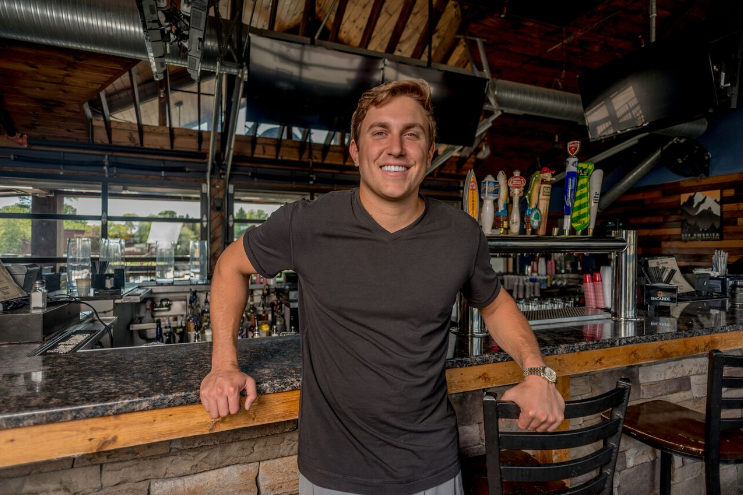 You do so much. Where should we begin?
"The main thing I personally want to get across is building one force and how people think I'm doing so many different things but in my mind, it's really one thing. It's one force. Synergy that I create so it all works together."
How'd you get your start?
"It started with sales. I had my first business when I was 18. Then I went to service, which was my first bar I opened my senior year [at the University of Georgia], Silver Dollar."
Tell us the story behind Silver Dollar"
"Juan Calle and Adam Berlin went to Georgia with me. When they graduated, they opened Moonshine Bar and did well. It was a smaller bar in Athens but they were crushing it. I saw the opportunity to open up another spot and we teamed up. We had mutual respect and made a partnership. That was a big key to our success, us three working together. We worked on it [Silver Dollar] for about 8 months. We did our renovations and flipped it around 6 weeks. I had law school orientation on Monday and we had our soft orientation for Silver Dollar on Wednesday. We opened Silver Dollar two days after I started law school, August 20th and 22nd of 2011."
How was that, juggling law school and owning a bar? Were u even worried?
"I couldn't have done anything by myself. It was all the partnership we created. That did well. Within one year, we acquired City Bar adjacent to Silver Dollar. It was the third year we decided to go with Big Sky and move to Atlanta. When you get overwhelmed, you just have to step up to the plate."
How did you help make Big Sky one of the most successful bars?
"Juan and Adam are actually the guys that spear headed it. They're from Atlanta, knew the market, and saw the potential. I'm from Jacksonville, I didn't really know what I was getting into. We found the perfect spot and extended our partnership to some of the people in Athens.
It was a headache going through all the city permits, requirements and regulations to get everything done so quickly. But we got it up and going and it was our first venture with food. Which was difficult."
How so?
"Personally, I dont really deal as much in the kitchen as some of my partners. Adam's actually the most hands on. But it's another avenue of the bar and night life industry. You're dealing with perishable goods and more hourly employees. Your overhead is so much more and there are a lot more regulations as well."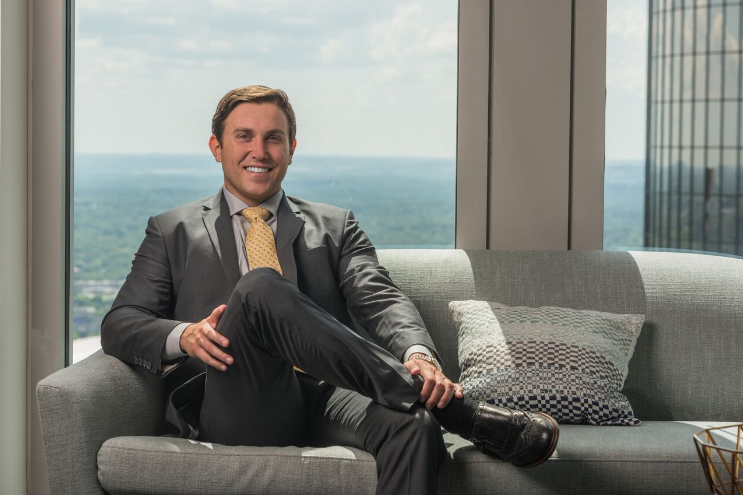 Let's bring the conversation back to the legal side of things. Are you handling all the paperwork and contracts?
"I don't do all of our contracts. Being with Morgan & Morgan we have to separate that. I don't do hourly work. I only do work based on contingency fees. Morgan & Morgan is the number one law firm in the nation based on contingency fees. I do a lot of the stuff we do with all the people that come through."
Like the Nelly and Snoop Dogg event. You played a huge role in that, right?
"I'm the one that does entertainment contracts, has to work with the city, do the permitting and pulls those strings. We all work as a team. Which gets me to my next point.
My partnership with bars is also why I'm with one of the top sports agencies in the world, Select Sports. We built a team around all professionals. Most of the agents at Select Sports are also attorneys and we, as a team, do everything the correct way. That's why we represent people like Andy Dalton and Peanut Tillman and the people that are really good people to work with on and off the field.
Sports and law go hand and hand. A lot of people don't understand how I'm able to be with Select Sports and Morgan & Morgan much less all my other companies as well. That's where it gets to the whole synergistic feel and creating all positive vibes and working together.
The reason I'm able to do everything I've done is because of the support my partners and bosses from each company gives me. I couldn't go out and do Big Sky, sign football players or bring in some of the cases to Morgan & Morgan by myself because I wouldn't have the credibility or experience to actually do this with confidence.
I'm with the best attorneys in the nation. Because of the structure and support they give me, I don't have any doubts. If I don't know something, somebody behnd their desk does.
My main goal is to help people. Being a lawyer gives you the credibility and structure to help people endlessly. When you represent an athlete, they don't only need contracts they need help off the field. They have personal problems, injuries, and want to start businesses.  Why be there for only one reason?
And everything goes back to having a big network. Once you have that network, it's about what you do for them and being loyal. I'm there 24/7. You could call me anytime. That's a major key
Speaking of keys, you hung out with DJ Khaled once. How did that happen?
He [DJ Khaled] was one of the cooler celebrities I ever met. He was in my hotel. I went down to the gym and he was there with his crew. I was doing kettle ball swings and he was like "what are those?" I showed him and he takes off doing reps. He's the man. I'm not real close with him but asked for him to be in my Snapchat."
We saw you with Chuck Liddell the same weekend. What was that like?
"He's very humbled, down to earth, and an awesome guy. I was actually with him, his wife Heidi and a crew of friends for a good part of the weekend. I'm sure anyone that knows them would agree they're the life of the party and bring positive energy. I really got to know them. Everything he's done for the UFC industry is unreal."
You're often around celebrities and travel a lot. How is that so?
"I find myself in those situations based on the team I built around me. The people I associate myself with, all positive. You find yourself in those situations when you surround yourself by successful people.
I travel from city to city because there's a reason for me to be there. It's either I have to be there for work or it's something that will help different aspects of what I will do. I usually don't travel just for fun other than my most recent trip when I went around the world. "
Though well established, Evan Rosenberg's career and network continue's to grow. He went from owning the bar to passing the bar and synergy is his key. Follow the young business tycoon as he leads Georgia's millennial generation.
In need of legal representation? Contact Evan Rosenberg

ERosenberg@forthepeople.com

or
904-568-7676
Instagram:
evanrosenberg_
Twitter:
RosenbergE