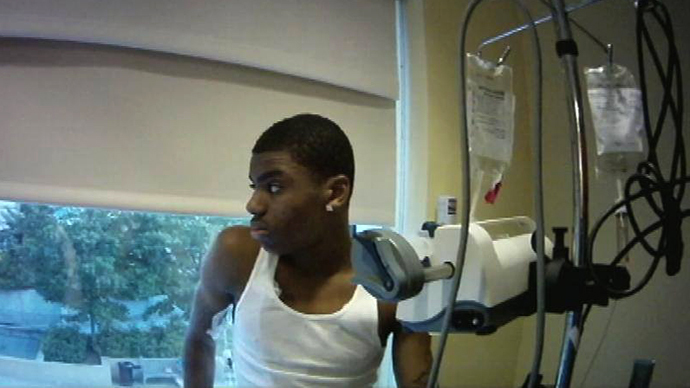 A Georgia teenager in dire need of a new heart was denied a transplant after doctors determined that his history of poor grades and prior issues with the law did not provide "evidence" that he would attend doctor's appointments or take his medication.
Physicians told Anthony Stokes' family that although he likely has less than six months to live due to an enlarged heart condition, the 15-year-old will not be placed on a transplant list due to concerns that he would not attend necessary medical appointments or take his medication.
"They said they don't have any evidence that he would take his medicine or that he would go to his follow-ups," Anthony's mother, Melencia Hamilton, told ABC affiliate WSB-TV.
Stokes is currently being treated at the Children's Healthcare of Atlanta at Egleston hospital and has been there since July 14.
"The non-compliance is fabricating, because they don't want to give him a heart," said Stokes' mentor and family friend, Mack Major. "This is unacceptable because he must lose his life because of a non-compliance."
Civil rights organizations have taken note of Anthony Stokes's case, stating that an individual's past should not impact the quality of medical care that they receive.
"He's been given a death sentence because of a broad and vague excuse of non-compliance," said Christine Young Brown, president of the Newton-Rockdale chapter of the Southern Christian Leadership Conference (SCLC).
The seemingly vague determination that the teen is in "non-compliance" seems to be related to the hospital's stringent guidelines for individuals placed on life-saving transplant lists.
The hospital's inability to cite specific reasons for its decision has been a source of the family's growing indignation. The facility has so far only cited generic internal rules which have disqualified Stokes from receiving a transplant.
Children's Healthcare of Atlanta spokeswoman Patty Gregory said in a statement, "The well-being of our patients is always our first priority. We are continuing to work with this family and looking at all options regarding this patient's health care. We follow very specific criteria in determining eligibility for a transplant of any kind."
The current lack of donors for procedures such as heart transplants means that hospitals follow strict guidelines as to who can receive a life-saving organ. But the hospital's declaration has not deterred the teen's family and loved ones from pushing back on his behalf.
"We must save Anthony's life," Major told CBS Atlanta. "We don't have a lot of time to do it, but it's something that must be done."