If you're an Atlantan, you've heard of the High Museum.
Maybe it was that field trip back in junior high. Or maybe it was the Celebrating Dr. Martin Luther King exhibition this January and February. Regardless, this iconic museum's dedication to the arts and larger Atlanta community is well-known and unparalleled.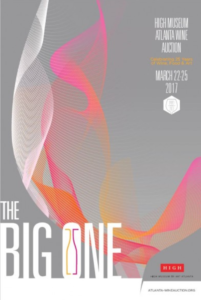 The non-profit funds itself through museum attendance, donations, and fundraising events. Their biggest fundraiser of the year, The High Museum Wine Auction, has raised over 25 million dollars for the arts since its inception in 1993. This year, they celebrate 25 years of their wonderful wine auction, and they are pulling out all the corks.
The very first lot in the auction features one of the most unique offerings up for grabs that night, and that's saying something. To start the bidding off for the evening, a giant 9L bottle of bubbly (2010 Scramsberg Blanc de Blancs Brut Sparkling, if you must know) is accompanied by a limited edition timepiece from Sablier Watches.
Named one of Forbes Magazine's "The Innovators: Five Watch Brands to Watch," Sablier holds the utility patent for the world's first and only concave watch after a decade of research and development in Princeton and construction in Switzerland.
In honor of the auction's 25th anniversary, this champagne colored dial is #25 out of 99 timepieces in existence. The profile of the watch case is modeled after a wine glass, the sweeping second hand is shaped like a cork screw, and the band is made of Portuguese cork. With all the wine, art and jewelry aficionados in the audience, this first lot is sure to start the night off with a big pop!
To learn more about the annual Wine Auction, visit the event's website.
To learn more about the beneficiaries, visit the High Museum's website.
To check out other timepieces and information about Sablier Watches, visit their Facebook or follow them on Instagram.