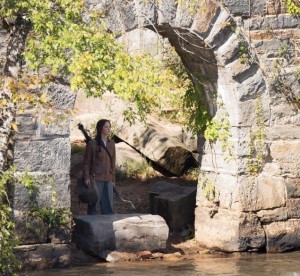 I know the title sounds like a complete exaggeration, but in this case actress Jennifer Lawrence was almost choked to death by a fog machine while filming "The Hunger Games: Mockingjay" in Atlanta.
"Filming came to an abrupt halt when this fog machine broke and began spewing so much dense smoke during a tunnel sequence that Jennifer literally disappeared from sight – and everybody panicked," a source from the film set said.
In the scene, Lawrence' character leads people staging a mass rebellion through a long tunnel that suddenly fills with smoke.
But when one machine malfunctioned, the actress and the other actors actually started choking and were unable to fight their way out of the blinding smoke. They could only be located by sounds of coughing and gagging.
"An assistant director screamed, 'Shut off the smoke machines, get those big fans running…and get Jennifer out of there!"
"After several scary minutes, a rescue crew finally found the star and carried her out, hacking and gagging. Jennifer's one tough gal, but she looked really shook up, and kept complaining she felt very nauseous – like she was suffering from vertigo," the source added.
Jennifer is doing fine & filming has resumed. They will continue filming in & around the metro Atlanta for the next 3 months. I'll be sure to update everyone with more news & casting calls for MockingJay.