A team of researchers at Kennesaw State University is working on an intriguing project that could have an unbelievable impact on traffic and perhaps even replace the Atlanta Streetcar.
It has long been noted that a part of Atlanta's traffic problem comes from the fact that the city simply doesn't have any outstanding public transportation.
MARTA is viewed as unsafe by many residents, bus and train stops aren't necessarily as convenient as some would hope and the Atlanta Streetcar still has a limited route.
Well, what if there was a safer way to travel that could allow dozens of people to ride together to destinations across the city, it was fully electric and the cost of labor was drastically reduced and allowed the city to focus the majority of funding on maintenance for this new method of transportation?
That's exactly the kind of solution a semi-autonomous electric bus system could provide and researchers at Kennesaw State University are working on it.
"The team is developing an electric bus system, dubbed SMFe-bus (Slim Modular Flexible Electric Bus), that includes multiple platooning autonomous modules," Atlanta Business Chronicle's Urvaksh Karkaria reported. "The research is being funded with a $175,000 grant from the Georgia Department of Transportation."
The idea is just as stylish as it is functional, cost-efficient and potentially life-changing for Atlanta residents.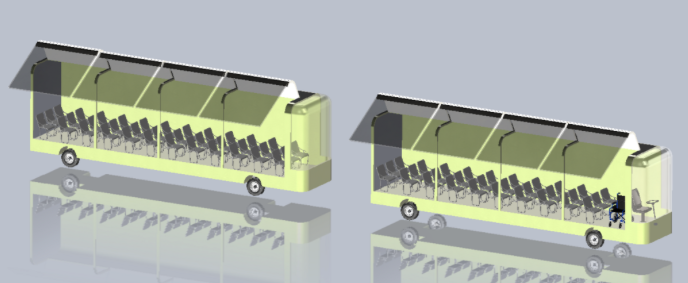 The bus would essentially be composed of multiple separate cars that are programmed to follow the car in front of it. The only car that would have an actual driver would the first car—the line leader, if you will.
Every car behind it would be driverless but would faithfully follow the car in front of it while still providing enough space for the cars to make emergency stops should its leader need to slam on the brakes.
This design would allow officials to control how many cars would need to hit the road at once. If it's a slow day, two or three of these modules might suffice. On a busy weekend with festivals filling the city, perhaps they would extend that number up to four or five. It would essentially give you an electric train system above ground that is also slim enough to fit conveniently on Atlanta's road.
You see, the other cool thing about this design is that the cars are designed to fit rows of three people with no center aisle. This means the modules could potentially fit in Atlanta's street lanes better than the massive charter busses that often struggle to navigate city streets.
The cool design features don't stop their either.
Remember when we were all in middle school and day dreamed about one day having a car with butterfly doors? Well, if this idea comes to life, your train system could fill that void in your heart for now.
One side of the cars would feature large transparent panels that would open butterfly door style to allow passengers to easily and quickly make their way on or off the futuristic bus/train hybrid.
It is predicted that the fare for such a method of transportation would cost more than traditional MARTA options but for a design as cool as this with an environmentally friendly spirit seems well worth the extra bucks.
Unfortunately, we have no idea how long it might be before the design is brought to life and allowed to hit the road but for now we can still just bask in the pure coolness of the idea itself.