The Adopt-a-Highway system was great program introduced to the states. An organization would clean a certain part of the highway from litter and in return would have the road commemorate them. It keeps the state clean and the people happy, unless the people who are adopting the road are the notorious white supremacist group, the Ku Klux Klan.
The Ku Klux Klan are largely unpopular with the people of the United States and they are definitely a dark spot in the history of the peach state; however, they state that as American Citizens they have the right to free speech and the right to adopt a highway.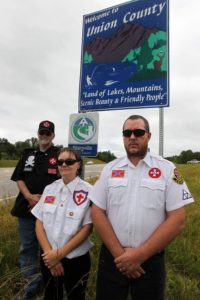 Despite public objections and outcry, Fox News reported that they have won the civil case by the Georgia's High Courts to be apart of the program and clean up trash along Route 515. Ever since 2012, they have been fighting the Georgia Department of Transportation for their right, but it wasn't until the American Civil Liberties Union (ACLU) defended them that they started to gain some traction.
In 2014, Judge Shawn Ellen LaGrua of the Fulton County Superior Court ruled in the groups favor, however that was fought when the state filed an appeal. The main reason being that having a portion of the road plastered with the Klan's logo and name could drum up controversy and lawsuits.
In his denial letter, CNN reported, Commissioner Kieth Golden stated, "The impact of erecting a sign naming an organization which has a long-rooted history of civil disturbance would cause a significant public concern."
The court had hearings in 2015 and 2016 and after a long drawn out battle dismissed the state's appeal.
What's going to happen next isn't clear, but it's clear that the KKK aren't giving up on the 515, and neither are the people who are trying to stop them.