The Atlanta comedy scene is well respected throughout the nation and reputable because of the hustle shown by many lesser known comics such as Mario Tory. Tory is one of the most recent Atlanta comics to go from performing at hole in the wall joints, to traveling the country and achieving every comics dream of making it to the TV screen. Last year, Atlanta was the first stop on Kevin Hart's "Hart of the City" which premiered on Comedy Central and Mario Tory had the privilege to perform the very first, standup act.
Outside of seeing a little growth in his fan base and being better positioned for future projects, life hasn't significantly changed for Tory since his TV debut. Tory is still connecting with his home base right in the Atlanta area and bringing a new night of comedy and laughter to Edgewood. We caught up with him, shared a brief conversation, and here are some things he had to say:
GA: Tell us something the people should know about you?
MT: "Mario Tory. Born and raised in Tennessee. Representing Atlanta ALL DAY! I'm working hard in the comedy scene. Watch out for me. That's all ima say. You better watch dat (laughs)."
GA: What made you get into comedy?
MT: "I was always the outspoken dude. I was never afraid of a crowd or any type of public speaking or anything that had to do with being in front of a crowd. I manifested that, kept grinding at it and grinding at it and earned myself a lot of recognition out here. I tapped into the gift and kept running with it."
GA: Share some of your thoughts on the Atlanta comedy scene and how you rose up through the ranks.
MT: "Atlanta's comedy scene has always been a well rounded spot to come do comedy and you gotta bring it. Me coming up through the scene it's been years. It's been 10 years in the making and was nothing easy. You just gotta stay consistent and keep grinding. I been having fun too. The one thing about it is to have fun but yea, this is where it's at."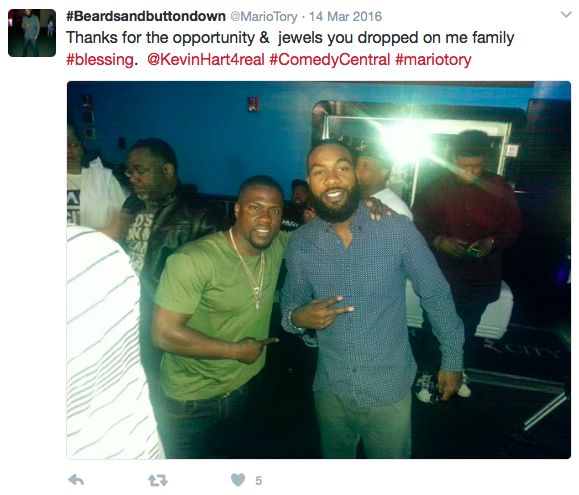 GA: How has life changed since being featured on Kevin Hart's "Hart of the City"?
MT: "Nothing. Ain't shit (laughs). I got a lot of good looks, a lot of good feedback and it's one day at a time. You can't change your life over night. You gotta stay around the right people. I think, in due time here, I'll have a lot of big specials coming out. Shouts out to Kevin Hart and 'Hart of the City.' Shouts out to Comedy Central. Shouts out to all the Atlanta productions. It's all a blessing. I'm just, one day rolling."
GA: Who are some of your favorite comics to perform alongside or that you support from Atlanta?
MT: "Atlanta's always my home but it's more people outside of that. Let me say that. I gotta give a shout out to Sommore and D.L. Hughley. I had a good time working with them in the past and you know, a lot of good cats. Marvin Dixon. Florida itself. Jay Gase, the New York cats. Um, Cali. Rob Stapleton. Its just a plethora of comics out here. Not just saying Atlanta itself. Cat's out in New Orleans like my man Shawty Feel Good. Different cats man. It's a different area of comedy out here everywhere so I work with a lot of great people all throughout my career."
GA: You're hosting a new spot on Sundays, correct? Are you bringing a lot of these comics out?
MT: "Correct man. Listen. Every Sunday. 464 Edgewood Avenue. Make sure y'all come check me out at Café Circa. I'm there. I'm bringing all my friends through there and we gone blaze. I wouldn't bring nothing but the best. So believe me and support it. Come through!"

Mario Tory is a veteran comic to the Atlanta comedy scene and tours throughout the nation. You can catch him each and every Sunday at Cafe Circa, 464 Edgewood Avenue from 7-9 where he brings out some of the hottest acts in comedy. Be sure to follow Mario Tory on social media
@MarioTory

.