As expected, tickets to Beyonce's Formation Tour sold out at break neck speeds, leaving many of the pop diva's fans feeling as if all hope was lost. Well, fear not, you frantic Beyhivers. There are still some opportunities left to get in formation with Queen Bey tomorrow (May 1)—but you're going to have to pay a premium price or test your luck.
Ticketmaster, the official ticket source for the Formation Tour, made it clear that they have no more tickets available for hopeful fans but they are encouraging would-be ticket buyers to use their services to snatch up one of the many tickets up for resale.
While a vast majority of Formation ticket buyers were truly investing in getting a chance to see Beyonce take the stage, there were, of course, many who truly just wanted to make a quick buck. So now they are selling their Formation tickets online and adding their own personal price markups.
It's nothing out of the ordinary by any means, but the catch here is that with a tour this popular Ticketmaster is giving fans some important words to live by if they don't want their festivities to be ruined and their money to go to waste.
The first suggestion was that buyers skip social media platforms like Twitter or Instagram when looking for someone willing to place their Formation tickets up for sale. Instead, the ticket giant urges consumers to find "verified" resale tickets through their website to ensure that they don't hand over cash for faux tickets that will get them turned away at the door.
Anyone interested in resale tickets better move quickly, however, as even the amount of resale tickets is dwindling at a rapid pace. We can only hope there will even be any left by the time you finish reading this article.
But even if you have already secured your seat in the Georgia Dome, Ticketmaster is warning you not to brag about it on social media. It turns out that some clever Beyonce fans are skilled in the art of ticket-making and they can swipe that one-of-a-kind code on your ticket to create their own free pass into the concert. Not only does this allow some concert goers to get in without paying but it also renders your ticket absolutely useless if that code thief makes it inside before you do.
How awkward would that be.
So if you're thinking about waving your tickets around in a pre-Formation selfie, make sure you cover your code with a black bar or an excited emoji (and do a better job of censoring the code than Usher did with his manhood. Yikes.)
But if you don't want to front the money for an expensive resale ticket and you like playing the lottery, there is one more chance for you to go see Formation.
Amex and Uber teamed up for a pretty interesting giveaway that will surely have hundreds or even thousands of fans getting all dressed up…with nowhere to go.
Here's how it works.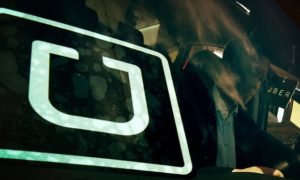 On the day the Formation Tour hits your city, you and a friend get all dressed up and ready to go even though you have absolutely no tickets for the show. After that, you request an Uber to the GA Dome. That's all you have to do.
If you're lucky, your Uber driver will show up with two tickets to the show and your dream has just come true. It's important to note, however, that you must be at least 18 and you absolutely cannot keep the Uber driver waiting. So no getting partially dressed just in case your Uber driver shows up empty handed.
If you aren't as lucky as you thought you were, your ride to the venue will automatically be canceled, according to AmEx. So you can either go back in and cry the night away or take advantage of the Uber sitting outside your door and make the most out of the night. It's all up to you.
Good luck, Beyhive!