Entry-level sedans tend to be aggressively blasé in order to attract the widest consumer base possible. The insides all share the same shiny plastics and faux-leather, and from the outside you'd find more visual variety Tindering in Iceland.
But the thing that really got my goat after renting ~30 mid-sized sedans during my last job as a traveling consultant was the sad, raspy four-cylinder under the hood of these things. You get the feeling that they dreamed of catapulting 2500-pound Miatas off the starting line, but instead got paired with bloated family-movers and now just dispassionately phone-in when the throttle is pressed.
In short, cheap mid-sized sedans are tailored for people who don't care about cars, and there's nothing in them to make them care. 
The Germans, however, only make cars for people who care about cars. So what did their cheap, mid-sized sedan end up like? The result, the 2017 Jetta, spins a tale of performance and sacrifice.
THE PERFORMANCE
It comes in manual. I couldn't delay that good news any longer. And it's a good one, with slick gates, a forgiving clutch, and instant torque. The engine is a turbocharged four-banger squeezing out up to 210 horsepower in the highest trim, with smoother power delivery than I found in the 268-horsepower Camry. Plus, it shows nary a hint of turbo lag, making it one of my favorite engines in a car under $25k.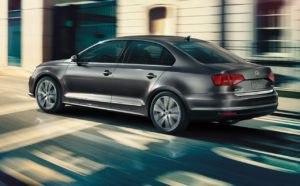 Sharing a platform with the sublime Golf GTI, the Jetta handles handsomely as well, out-maneuvering most anything in its price bracket except the Mazda3 or maybe the refreshed Hyundai Elantra.
Overall I'd say the Jetta fits nicely at the tail-end of the German performance food chain: BMW M3, then the M235i, the 335i, Golf GTI, then Jetta; all roughly $10,000 apart.
However, while those cars with heftier price tags had to make few, if any sacrifices during R&D, the bargain-priced Jetta did.
THE SACRIFICE
Stylistically, the interior of this car takes German utilitarianism a bit too far; It's comically spartan. Just look at it next to the 2017 Chevy Malibu I was in a few months ago (bottom):
On the plus side, everything is extremely easy to find, but it's just not an elegant place to sit. From the people who make Audi and Porsche, it's like they want to remind you that you didn't buy one of their nicer cars, and during those brief seconds between sitting down and turning on the brilliant engine, it's a bit of a boring place to be.
Plus, for a car VW calls a sports sedan, the front seats oddly lack lateral support, and the rear "seats" are a sad, faux-leather bench with little contouring that I can't imagine are comfortable on road trips.
WRAPPING UP
Overall, though, I highly praise the Jetta for standing out in a historically boring segment. Where most every other mid-sized sedan plays safe by scoring a 5 or 6 in every category, the Jetta gets a 7.5 in performance and a 3.5 in interior design. If you're looking for an inexpensive mid-sized sedan that gets the job done while having tons of fun, put a few miles on a 2017 Jetta before making a final decision.