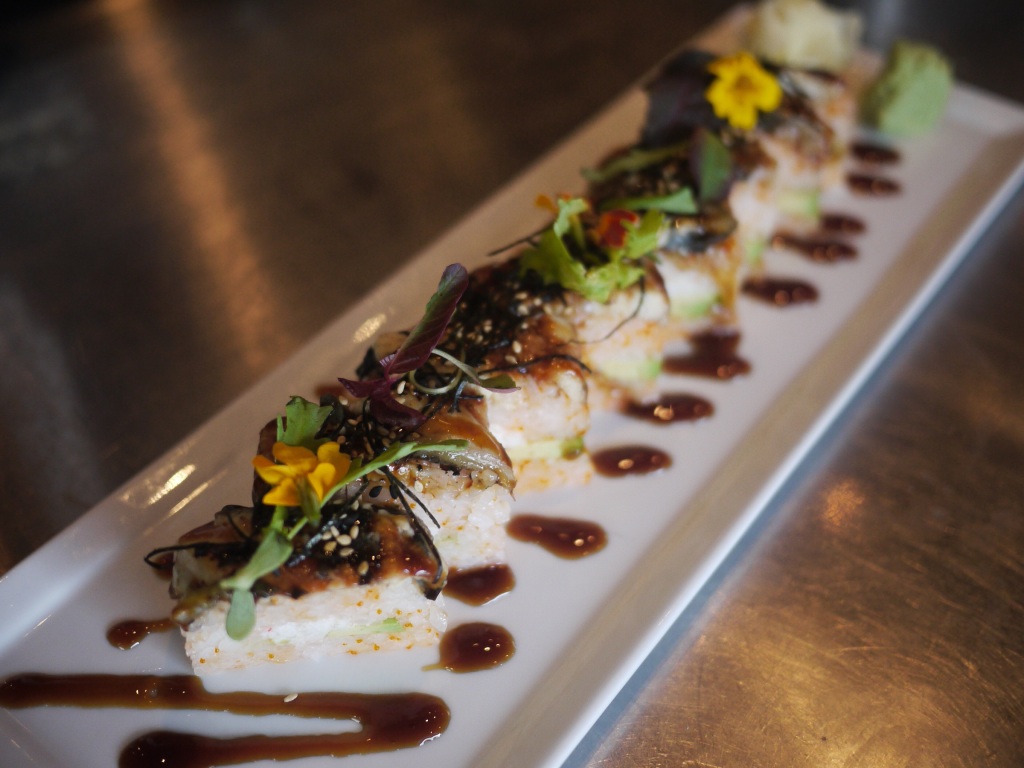 Sushi has gained immense popularity in America over the years, but for many, it is still an acquired taste. It seems as though there aren't many restaurants that cater to both the beginner and avid sushi eaters. One Sushi Plus (OSP), a relatively new Asian fusion restaurant, specializes in unique dishes in a modern and romantic setting.
Now, I'll be the first to admit that sushi is an occasional dish for me. I may eat it roughly five times a year. However, I am certain that number will change after my recent visit to OSP. Patrons often consider the environment, service and food when visiting a restaurant. If one or more of these areas do not meet a customer's expectations, it may affect the overall experience. However, when these three areas are successfully executed, that restaurant automatically becomes one of your favorites. This was definitely the case for me.
Upon entering the restaurant, I was immediately impressed by the chic decor. The design was tastefully executed with clean, modern lines, culturally expressive artwork, and intimately lit tables. I was immediately immersed in the atmosphere with the backdrop of a perfect autumn night in Brookhaven ultimately enhancing the experience. The Aesthetically pleasing style is well arranged for a romantic night cap or dinner with close friends.
The customer service was impeccable from the time we arrived until the time we left. We were met with smiling faces by every server that passed by our table. All the staff greeted us at least once and made sure we were satisfied while we were dining. Our server was extremely friendly, helpful, and professional. She was very knowledgeable of the menu and made excellent suggestions. The wait time for the food is minimal, as should be expected for any sushi restaurant. We sat at the bar, which gave us an entertaining element of watching our sushi be skillfully prepared by the in-house sushi chef. The chef even checked on us periodically to see how we liked the food. Overall, the attentiveness of the staff provided a very personal and welcoming touch to the experience.
The food at OSP is beyond amazing. The chefs have whipped their menu into a finely tuned machine. Every selection we tasted seemed to be even more delicious than the last. My personal favorite was a dish called "Bang Bang Shrimp." The sauce covering the shrimp was so delicious it actually made us smile out of sheer surprise. Other favorites from the evening included: the Gangnam Style, T.F.C, and U.N. rolls which were all uniquely appetizing. The portions are generous considering the moderate prices. OSP also offers crafty cocktails and authentic imported beer. Let's just say we tried more than a few of them. I'm a fan of cognacs and whiskeys, so I naturally gravitated towards those selections. My favorite of the evening was "The Last Samurai", which was a 12 year old whiskey that featured a frozen block of oolong tea in it.
I absolutely recommend One Sushi Plus as one of the go-to sushi restaurants in Atlanta. A top-notch experience with plenty of "Bang Bang Shrimp" for your buck.
This slideshow requires JavaScript.
Restaurant Details
2523 Caldwell Road NE Suite 1000
Atlanta, GA 30319
Phone 404-869-6988
www.theonesushiplus.com
Hours
Sunday – Thursday:  5pm – 10pm
Friday – Saturday:  5pm – 11pm