This weekend had everything a gamer could want and more.
Southern-Fried Gameroom Expo 2016 was wall-to-wall joy and entertainment.
This was the 3rd year for the event and it was well received. Occupying the spacious Atlanta Renaissance Waverly Hotel & Convention Center, the crowd was more than accommodated. The expo had everything from arcade games, pinball machines, video game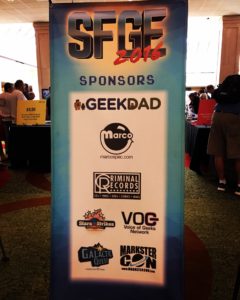 consoles, and tabletop gaming. This year's expo also introduced live performances.
'80s cover band The B Team and geek‐inspired musicians D&D Sluggers and Snoot took the stage to rock Atlanta geeks, gamers and nerds alike. Attendees were also treated to a live thrill show from Atlanta Wrestling Entertainment.
The ballroom was filled with 250 plus games that invoked nostalgia. Super Mario Bros, Frogger, Tron, Q*bert, Fix-It Felix, Marvel vs Capcom, and Centipede just to name a few of the many games that stood for gaping mouths and overstimulated eyes. Not to mention the pinball machines galore.
Just off the ballroom was a conference room for the gamer that loved to race home to finish their homework, fix their favorite after class snack, and lose themselves in the 8 or 16-bit world. The consoles of yesteryear lined the tables.  Sega, NES, N64, Atari, Dreamcast, Gamecube, Super Nintendo—this was enough to overload a 6-year-old, let alone the older attendees who grew up attached to the consoles.
There was silent auction with items donated from all of Atlanta, with 100% of the proceeds going to the Atlanta Community Food Bank.
Parents had the chance to not only have an amazing weekend out with their families, they were able to share a piece of their childhoods with this new generation.
If you missed this year's expo, be sure to follow the expo on Facebook , Twitter and Instagram for more information on next years' event.