From near Statesboro, Georgia, to Florence, South Carolina; Fayetteville and Greenville, North Carolina; and Norfolk, Virginia, mostly snow is forecast to fall.
Near this zone, a narrow swath of several inches of snow are in store. Enough snow is in store to cover roads and the landscape.
Snowfall will ramp up over northeastern North Carolina and southeastern Virginia during Wednesday night.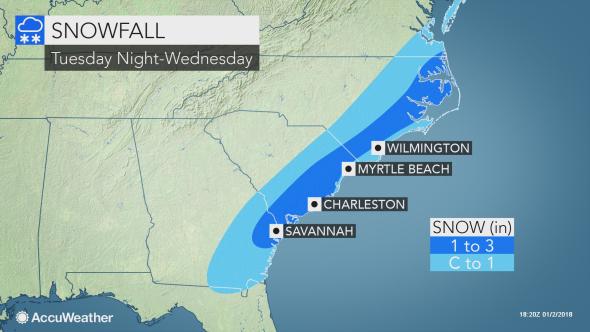 The snow area will have a sharp northwestern edge, where little to no snow is likely. This sharp cutoff of snow may be near Raleigh, North Carolina, and Richmond, Virginia.
Areas from Lake City, Florida, and near Jacksonville, Florida, to Savannah, Georgia, Myrtle Beach, South Carolina, and Wilmington, North Carolina, can expect a wintry mix.
Everything from snow to sleet, freezing rain and plain rain may fall in this coastal zone. Enough frozen precipitation is forecast in this swath to make roads slippery. Ice may accrue on some trees, power lines and other elevated surfaces. Motorists should be especially careful when traveling over bridges.
The wintry mix in this immediate coastal zone may end as all snow.




On Tuesday evening, the governor of Georgia issued a state of emergency for 28 counties due to the impending winter storm.
<blockquote class="twitter-tweet" data-lang="en"><p lang="en" dir="ltr">Ahead of a forecasted winter storm, I've issued a state of emergency for 28 counties in the coastal region.</p>&mdash; Governor Nathan Deal (@GovernorDeal) <a href="https://twitter.com/GovernorDeal/status/948325328325406727?ref_src=twsrc%5Etfw">January 2, 2018</a></blockquote>
<script async src="https://platform.twitter.com/widgets.js" charset="utf-8″></script>