There's been a curious pattern in the test cars I've been receiving lately. I'll first get a slick and shiny yet eye-poppingly expensive ride to review, then directly after that, a competitor's version that costs exactly half as much. Lexus GS 200t then Nissan Maxima; Mercedes SLC 300 then Fiat 124 Spider. In each case, choosing between them wasn't so straightforward. I actually liked the less expensive Maxima better regardless of cost, and the Mercedes / Fiat matchup was closer than you'd think.
And it's happened again. After two weeks with zippy convertibles, I made the dizzying transition to the mammoth Mercedes GLS 450, and afterwards, the more modest, mommy-friendly Hyundai Santa Fe. Both seven-seaters impressed, though in starkly different ways. As always, micro-reviews, then a comparison:
The 2017 Mercedes GLS 450
Mercedes now tacks "S" onto what was formerly the GL-class, presumably so their biggest SUV can join the top-of-the-line S-class family of their lineup. But don't mistake it for a lifted S550; this SUV is less about ultra-luxury and more about simply clobbering the SUV competition in nearly every category.
It's fast, zipping to 60 in a mere 5.7 seconds (4.3 for the insane AMG variant), while maintaining decent MPG of around 18 overall. Plus, while other SUVs struggle to pull 5000 pounds, the GLS happily tows 7500. The handsomely adorned cabin seats seven adults, and like most of the recent Mercedes lineup, it's breathtakingly gorgeous in black.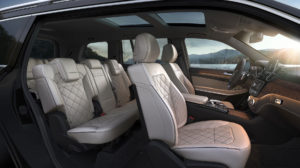 So it's brilliant, but Hyundai's recent lineup is clearly gunning for its Teutonic rivals. Is the GLS 450 brilliant enough to justify being double the cost of a loaded, $42,000 Santa Fe?
The 2017 Hyundai Santa Fe
If there was an annual "Start Taking Formerly Boring Things Seriously" award, Bryan Cranston would've won in 2013 for his portrayal of Walter White, and Hyundai would've won this year for its shockingly improved lineup.
These formerly blasé accountants' cars are now showing up with sleek bodies, beautiful and highly functional interiors, sophisticated drive modes, and best of all, their budget price tags haven't budged. I loved the 2017 Elantra and the new Santa Fe feels just like a raised version with more seats and more horsepower. A lot more: 290 from a naturally-aspirated 3.3L V-6.
So while it doesn't leap between lanes like the Mercedes, it still feels way more powerful than your average mommy-mobile, making it a breeze to drive. It's also handsome inside and out, and can be loaded up with luxury features such as leather seats, power trunk release, and blind spot monitoring for well under $40k. Toss in the $1750 AWD option for added safety and the option to sling mud at the campsite.
The SUV Face-off: Germany vs. South Korea
Once again, the Mercedes is the better vehicle in nearly every way. The question is, is it worth two fully-loaded Santa Fe's?
Well, the Santa Fe is an excellent car. Apart from not being particularly pretty viewed from the side, it's a people mover with few faults.
But the Mercedes' trump card is the feeling of empowerment it provides. It's Dave Bautista on wheels, and people get out of their way when they see you. The GLS gave me the same invincible feeling I experienced in the Ford F-150 King Ranch: that I could invade a country, that I could put my foot down and nothing could stop me until I ran out of gas. On the road, it's something I've never experienced, seeing as I spend most of my time in shorter cars.
The Santa Fe is brilliant, but it didn't sell me, a sports car lover, on the idea of owning an SUV. The Mercedes did, and for that, it'll always have a special place in my heart.