"Times they are a changing…" to quote Mr. Bob Dylan. Self driving cars, vinyl records (again), the welcoming of Atlanta United FC, and finally: An Atlanta cidery.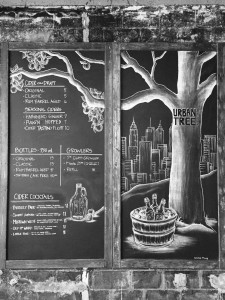 Cider is a welcomed beverage in an industry that is becoming much more diverse and dynamic across the board. There is no doubt that the explosion of craft breweries has spawned this growth, especially here in Atlanta, but cider is now entering the game and Urban Tree is ready to play.
Urban Tree Cidery is the first of its kind to enter the city limits. Located in the growing Neo-Industrial aesthetic section of ATL, which we call West Midtown, Urban Tree holds the torch for a trend that is catching on quickly: hard cider. For those adults not familiar with the difference between regular cider and hard cider, the latter is an alcoholic beverage, while the former is not…pretty straightforward.
Urban Tree is the culmination of a passion and vision of the founders, Tim and Maria Resuta, both of whom have been interested in cider making as well as sustainable agriculture and offering a farm to table product for many years. Being avid cider drinkers, they took notice of the increase in popularity here in the United States, and decided to pursue their dream of offering a quality cider to an audience that deserves such.
Urban Tree opens their doors this Saturday, March 26, at 12 noon high (12 p.m.), and entrants will get to enjoy authentic craft ciders right off the tap. Each of the three primary ciders provide options on the tasting scale to suffice anyone's palate: ranging from dry and balanced with their "Original" cider, to the more full tasting, crisp, and semi-sweet "Classic" cider. For an added dynamic, Urban Tree offers their "Barrel Aged" cider, which is aged in oak rum barrels, and brings out a more full-bodied type of flavor that has a hint of a wine feel to it. For the especially adventurous, Urban Tree offers their "Habanero Ginger" specialty cider, which is even better than it sounds. The look is similar to a German Hefeweizen, or a wheat beer, very different look from the standard cider, and the taste is passive aggressive with a constant dialogue between sweet, spicy, and subtle.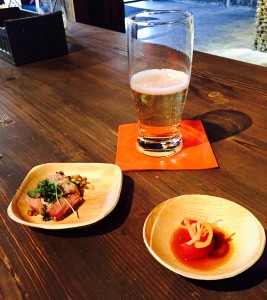 Anyone experiencing cider for the first time might find themselves engaged in an inner struggle of determining if cider is wine or beer…well, to be blunt, cider is cider, but the need for relativity is understandable. Jackie Waice, who is a partner in the cider making, is happy to explain the cider process and helps to make sense of it all.
"In the beginning, apples are picked and pressed to gather juice in order to be fermented, much like wine, with yeast which is often used for beer," Waice explained. "The yeast does the rest, basic science and chemistry kick in, and in a few weeks the base cider is ready. Once the base cider is ready, the Urban Tree team gets together to cut, sweeten, and balance the cider to get the tastes and final product desired."
The processes of a craft cidery are what distinguish them from the bigger, mass production type of ciders, and the extra labor shows up in the taste. Each of the ciders offer a dynamic tasting profile that will fit a wide range of taste preferences. Another cool feature of Urban Tree is the fact they have a full scale bar in their tasting room- offering beer and specialty cocktails to go with their cider. This is a great way to begin drinking cider with training wheels and those little pool float-ies for those who are not quite ready to go full steam ahead yet. Many of the specialty cocktails are made using Urban Tree cider as well as liquors that are made right here in Georgia…keeping it local, keeping it classy.
Providing something tangible to represent the name, the cidery's design is a wonderful blend of rustic and modern, with wood and steel holding hands in perfect harmony to create a comfortable vibe to go along with the stress relieving libations. Tastings, tours, growlers, and more are all offered to go along with the casual drop-in who just wants a quick refreshment after work, or perhaps a cool treat on a sunny afternoon. There is a cider beverage for every occasion, that much is true.
The cider craze is getting ready to ramp up. For anyone who is not yet prepared, it would be a good idea to start doing some research testing/tasting, and what better commencement than at the birthplace of Atlanta cider? Urban Tree is a wonderful representation of the exciting growth in food and beverage in the city, and is sure to be a tasty escape for those who partake. Be sure to stay up to date with Urban Tree by following them on the social spectrums, and be sure to drop in for the opening this Saturday!