CBS – More rain is expected in Atlanta to end the week with snow possible in the city Friday night.
A storm system will bring rain back to metro Atlanta Thursday and Friday. It won't rain non-stop, however, waves of rain are expected starting Thursday afternoon and again on Friday.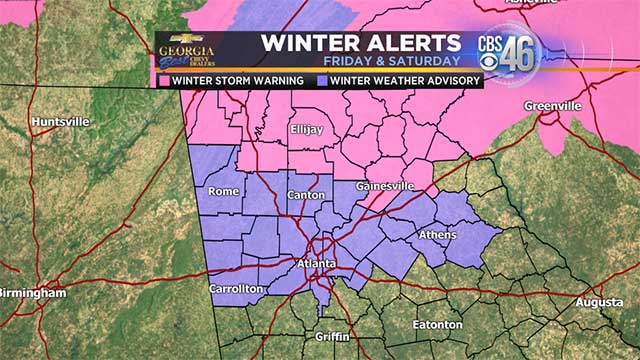 Snow possible in Atlanta 
As cold air moves into Atlanta, scattered rain is expected to change to scattered snow Friday night. The best chance of accumulating snow will be in the north Georgia mountains, however, snow will be possible in Atlanta.
Alerts
A Winter Storm Warning is in effect for the north Georgia mountains through Saturday evening, where the most significant travel problems could occur.
A Winter Weather Advisory is in effect for all of metro Atlanta starting Friday afternoon through Saturday morning, where minor travel issues are possible.
Drying out Saturday 
A few flurries are possible Saturday morning in metro Atlanta, however, it will be dry by noon Saturday.