Music in Georgia has some of the deepest roots out of any states in the USA. I would put it in the top 5 in contribution to American Music. From artists like Ray Charles, James Brown, Allman Brothers, to Outkast; Georgia is one of the most contributing musical states in the country. This list is comprised with artists with deep roots in Georgia, not only people born in Georgia. Here are my top 10 musicians with deep roots in Georgia that have made major contributions to American Music.
Der er mange topmusikere, der kan lide online casinoer. En grund til, at de kan nyde at spille på online casinoer, er, fordi de kan spille et hvilket som helst spil, de vil, uden at skulle forlade deres hjem. Online casinoer tilbyder også en bred vifte af spil, hvilket giver musikkunstnere en masse muligheder at vælge imellem. Derudover har online casinoer som regel gode bonusser og kampagner, som musikkunstnere kan benytte sig af.
I de senere år er online casino https://casino-spille.com/ blevet mere og mere populært blandt musikkunstnere. Der er en række grunde til, at disse sider appellerer til musikere. For det første tilbyder online casinoer en bred vifte af spil, som kan nydes af folk på alle niveauer. Derudover tilbyder mange online casinoer bonusser og kampagner, der kan være meget gavnlige for musikere. Endelig giver online casinoer et miljø, der er både sikkert og sikkert, hvilket er vigtigt for musikkunstnere, der ønsker at beskytte deres personlige oplysninger.
10. TLC
Before there was Destiny's Child, there was TLC. T-Boz, Left-Eye, and Chili are considered the best-selling female group out of America, ahead of Destiny's Child. This trio originated in Atlanta. I would describe them as the tomboyish group that could do hip-hop, new jack swing, and contemporary R&B, similar to the Boston-originated boys group Bell Biv Devoe. Despite having feuds with each other, the record label, and even the law they are one of the iconic faces during the 90s. Releasing 4 albums in a 10-year span between 1992-2002, their most noticeable was CrazySexyCool. The group took a hiatus away from the music business after the death of Lisa "Left-Eye" Lopes but have recently came back to be featured on J. Cole's single from his latest single "Crooked Smile".
9. Alan Jackson
Arguable one of the most successful Country artist to ever come from the state of Georgia. Originating from Newnan, he has recorded 14 studio albums, 2 Christmas albums, 2 Gospel albums, and 7 compilation albums. With those numbers, he has a definite catalog to check out for yourself. With a could Grammys and other major awards under his belt, he is a definite shoe-in to make the Top 10 list in Georgia.
8. Trisha Yearwood
Before there were drop-dead gorgeous, blonde, female country artist like Carrie Underwood there was Trisha Yearwood. Born in Montecello, Ga., zhe was one of the driving forces for women in country in the 90s starting with her hit single "She's in Love with the Boy." Married to Garth Brooks who is one of the top country male singers in its genre, they both have recorded successful duets which have won both of them Grammys. Yearwood has recorded 10 studio albums and has 7 number one singles. She could be regarded as one of the top women in country especially in the 90s.
7. R.E.M.
Originating from Athens, this band was a part of the pivotal time in the creation and development of the alternative rock genre. With the early success of R.E.M., they inspired many other alternative bands. With that, they invented a whole new ballgame for other bands to follow. Bands such as Nirvana, Live, and Pavement have cited that R.E.M. inspired their music. Kurt Cobain had plans to collaborate Michael Stipe of R.E.M.
6. Allman Brothers Band
Coming out of the Music Capitol of Georgia, also known as Macon, this rock & blues band was one of the pioneers of Southern Rock. Even though they were the pioneers, they repeatedly distanced themselves from the term because it was limiting who they were as a musical group. Infusing different musical styles all in one group, they were definitely one of the most distinctive sounds in the 1970s. Hints of rock, R&B,  and country could all be heard in all their music. During their time, they have release 11 studio albums, 16 live albums, and 18 compilation albums. But this band placed more of their emphasis on their live albums. They have paved the way for many Southern rock bands such as Lynyrd Skynyrd and Wet Willie.
5. Otis Redding
Born in Dawson, this artist was taken away way too soon at the age of 26. This amazing soul singer left school at the age of 15 and was actually working with another Georgia native's, Little Richard, backing band The Upsetters. Otis was discovered by Stax Records while touring with Johnny Jenkins' (a native from Macon, Ga) band The Pinetoppers on an unscheduled recording session which led him to a contract signing. While only popular with the African-American community, his music reached out to the masses and was able to even perform in European cities such as Paris and London. Early in his career, he was known to have a similar style to Little Richard but ending up coming into his own form. He started displaying a lot of raw and strong emotional content in his work. Still to this day, Otis Redding music is still heard through samples and mixes, more recently Kanye West (born in Atlanta) and Jay-Z collaborated song Grammy Award-winning song "Otis". Otis Redding could be said to be one of the single greatest soul singers to be set to record.
4. Outkast
Big Boi (born in Savannah) and Andre 3000 (born in Atlanta) are the reason why southern hip-hop was to be recognized in America. In the early 90s, hip-hop music was ran by the West Coast and New York. But now, the south can be driving force for today's hip-hop and Outkast could be credited to this. This duo is one of the most successful hip-hop duo of all time receiving six Grammys. They have received widespread critical acclaim from major music publications. With six studio albums and a greatest hits album, they sold over 25 million records. Their album 'Speakerboxxx/The Love Below is the only album by a hip-hop duo to win a Grammy. Outkast continuously experimented and develop their music as you can tell even by just the names of each album. In their music, you could hear funk, soul, spoken word, and elements of southern music over hip-hop beats and lyrics. Not only did they experiment their music, but style as well. During this year, the duo has reunited and celebrating 20 years of Outkast. Recently, they have sold out their Atlanta 3-day reunion concert in Centennial Olympic Park in a matter of hours. Outkast has a real legacy in Atlanta and it is hard to ignore it.
3. Little Richard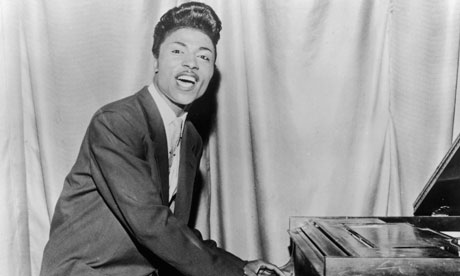 Another native of Macon, Ga, Little Richard has been an influential figure in popular music for over six decades. His characteristic showmanship and dynamic music laid down the foundation for rock and roll. Some would say that he invented rock and roll. Little Richard was a part of the pivotal time of popular music in the 20th century. He was a great influence over another Georgia great, Otis Redding. James Brown stated that Richard's bands were "the first to put the funk in rhythm." There have been debate that Little Richard is easily as validated artistically and important historically as any other important artist in time. Much of what's going on in music today could be credited to Little Richard.
2. Ray Charles
Born in Albany, this is easily one of the most important soul singers in history. Matter of fact, he was the pioneer of soul music. Rolling Stone actually ranked Ray number 10 in their list of "100 Greatest Artists of All Time" in 2004. Ray Charles released in his lifetime 55 studio albums. Ray Charles was actually the first African-American musicians to be given artistic control by a mainstream record company. One of his most notable singles "Georgia on my Mind" is the state song of Georgia. His music contained a lot of different genres such as jazz, soul, blues and gospel as well. When you think about music in Georgia, Ray Charles is one of the first to come to mind.
1. James Brown
"The Godfather of Soul" is what James Brown referred to. Augusta is where James Brown mainly originated from even though he was born in Elko, South Carolina. During James Brown's life and career, he is known during his concerts to "give people more than what they came for." His music is, in my opinion, why most music especially urban music exist today. Brown's fame peaked in the 1960s and in the 1970s, funk was fully established in the musical world. Brown could be credited to helping develop several music genres. What more could be said about James Brown? He is arguably the top musician to come have roots in Georgia. His resume speaks for itself. Musicians today still sample his songs. Even when you go to a movie or watch a show on TV, you can hear his songs. James Brown was such an iconic figure. From his voice, the cape, the dancing, he was the big figure in funk music and his time. Who could forget the 2003 BET Awards when he and Michael Jackson took the stage at the same time. That was one of the most magical moments in Awards show history. But even through his antics and troubles, he shined through and became the biggest influence in music history.