Atlanta was sent in a frenzy this morning after police released information of an apparent suicide on the grounds of Piedmont Park. This comes shortly after the unfair police shootings of Alton Sterling and Philando Castile which sent many users on social media in a uproar, people are demanding answers. Details are very scarce at the moment but here's what we know now:
It's funny because is true #PiedmontParkHanging pic.twitter.com/ypTN1uzSNh

— Muhammad al-Juarismi (@8nja) July 7, 2016
1. A Park Security Guard Found The Man Hanging
The report says:
APD on body hanging from Piedmont Park tree: no signs of foul play or struggle. Death consistent w/ a suicide. pic.twitter.com/7jn0PpaA1P

— Thomas Wheatley (@thomaswheatley) July 7, 2016
Police were called around 5:00am this morning, officers called for detectives shortly after arriving. Medical responders also showed up and reported the man showed, "no signs of life" according to the police.
2. Police Reported Death Was "Consistent With Suicide"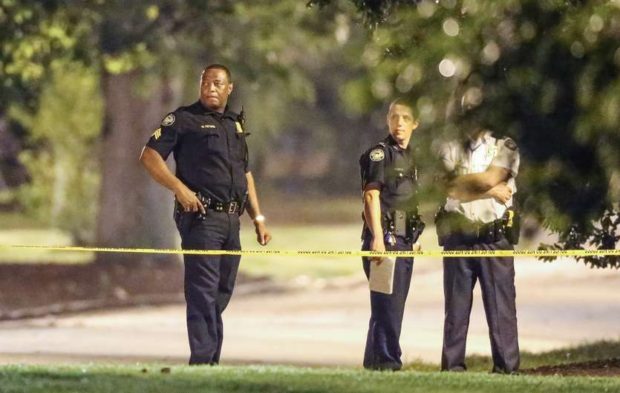 Although an autopsy hasn't been conducted to determine the cause of death, police told the AJC, they are "confirming the body found was the victim of suicide".
3. Mayor Kasim Reed Released a Statement
This afternoon Atlanta Mayor Kasim Reed released a statement saying the city has referred the case to the FBI. The FBI and Department of Justice haven't commented on the situation yet. Here's what Mayor Reed had to say: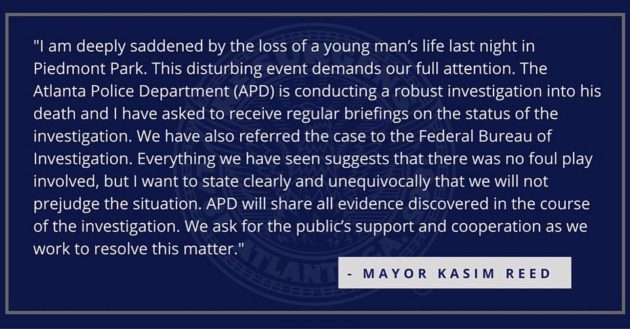 4. Social Media Isn't Having It
Social media users are fed up with the trail of events recently and despite APD's statement, many people became very suspicious. #PiedmontParkHanging quickly became a trending topic and Twitter users started putting pieces together.
it's actually terrifying that this nation is suddenly repeating some of the worst parts of human history #PiedmontParkHanging

— equality daddy (@kennedyykerr) July 8, 2016
Don't worry, I'll wait….. #PiedmontParkHanging pic.twitter.com/Es4kVpvVih

— Tha Prototype (@SquirtsPlenty) July 8, 2016
it's been 48 hours and 3 men have died and one of them were found hanging from a tree, my heart hurts 💔#PiedmontParkHanging

— Young Hamburger (@NasHatton) July 7, 2016
5. The KKK Was Allegedly in Piedmont Park The Night Before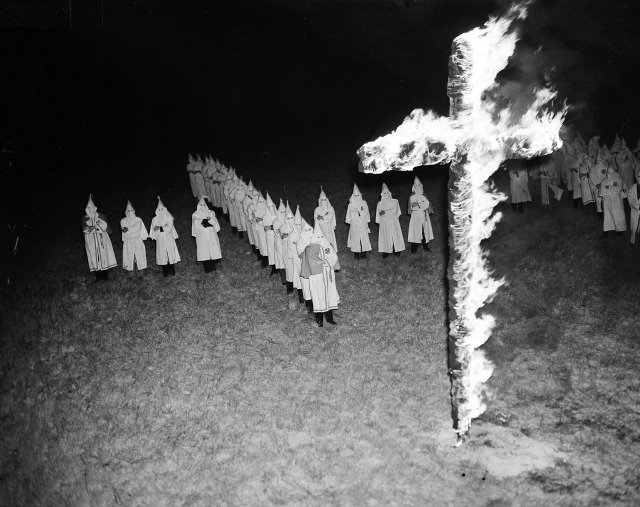 The south is known for harboring members of the Ku Klux Klan and recently they've been making headlines in Georgia, mainly for trying to "Adopt a Highway".  Multiple accounts claim the KKK was actually near the park that night passing out fliers recruiting more members. The KKK has always been synonymous with racially motivated violence and people are wondering if there's more to this story.
The KKK is handing out flyers one night and a black body is found hanging in a public park the next day? #PiedmontParkHanging

— Aura Bogado (@aurabogado) July 7, 2016
KKK needs to be listed as a Terrorist Group. They consist of cops, teachers & former presidents. They are the system. #PiedmontParkHanging

— Delonté De Clou (@dilemmv) July 7, 2016
How do you feel about the situation? Leave a comment below.