There are a lot of ways to get around Atlanta. People can take MARTA, drive, hop on a bike, or walk to a variety of great destinations. Since December of 2014, Atlanta's new streetcar became the latest form of transportation for locals…and it could be getting a major expansion soon.
As of now, the streetcar runs from the King Historic District to Centennial Olympic Park before circling back around. The route currently passes such landmarks as Georgia State University, the Peachtree Center and Sweet Auburn Market.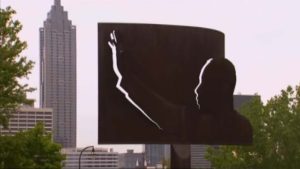 According to WSB-TV Atlanta, last week the Atlanta City Council applied for a $500 million federal transportation grant to extend the Atlanta Streetcar line by 7.2 miles down Martin Luther King Jr. Dr. Atlanta city councilman Kwanza Hall said that the money will also be used to improve the streetscape around MLK.
"If we win this grant, I think it really changes the game for the MLK corridor," Hall said. "When you look at those corridors, usually they are embarrassing. They're not areas that people hold in high esteem."
Tracy Gates, who owns a café on MLK, said that the area needs more people to come and spend money before it needs more beautification.
"We had beautification when the 1996 Olympics were here, street lights, markers," Gates said. "Beautification does nothing to an area; we need industry in this area."
Gates has a point. A grant could front the money to give the area a facelift, but without thriving businesses and active consumers, the area will likely fall back into the shadows it appears to be in today.
But that's where the streetcar comes in.
According to atlantadowntown.com, some of the biggest advantages of the streetcar include the potential for higher passenger loads, the production of less emissions and the predictability because of the streetcar's fixed route.
Rebecca Burns of atlantamagazine.com made the streetcar her primary method of commuting to work for six weeks, and she said that she liked riding the streetcar rather than driving.
"It's less stressful than driving and infinitely less taxing than dealing with downtown parking," Burns said. "On the streetcar, I can catch up on email, read articles for work and keep up with Twitter."
If the grant is accepted, the city probably won't get all the money they are asking for. According to WSB-TV, the city only received $40 million during the streetcar's initial launch.
Only time will tell if the city will be granted more for what is largely being considered the second phase of the Atlanta Streetcar.