It's that time of year when mock drafts are relentlessly being pumped out by every sports outlet, and it may be tough for fans to keep track of which players analysts have their team taking. In particular, the Falcons have seen a vast amount of prospects mocked to them with he 31st overall pick, as this class is particularly deep on defense, which is Atlanta's priority this offseason.
Luckily, the Falcons have positioned themselves to have a contending team regardless of what happens in free agency and the draft, but there are still a few positions that can either be benefited with a new starter or given some valuable depth. Defensive end, defensive tackle, and offensive guard are the main positions where an upgrade would be helpful, and Dan Quinn will always take more depth at linebacker and in the secondary.
31st overall is obviously not a great first rounder, but in a class like this, talent can be found there that would otherwise be considered mid-to-high first rounders in weaker defensive classes. Here's a look at some of the most mocked players the Falcons could be taking with this pick:
Charles Harris, DE, Missouri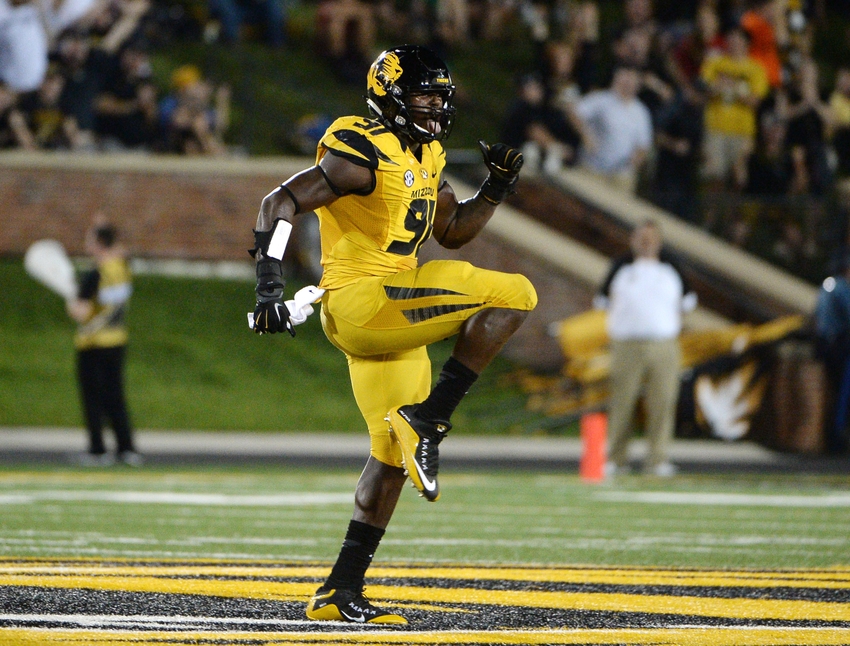 (John Rieger / USA Today Sports)
Coming off a 63 tackle, 8 sack performance that earned him a 2nd Team All-SEC spot, Harris has been mocked to Atlanta more than any other player on this list. An excellent pass rusher, he utilizes his speed more than anything to get around offensive tackles and after the quarterback. If Atlanta takes him, that could mean some serious pressure between him and Vic Beasley coming off the edge. Though his technique and run defense are in question, there is no question that Dan Quinn and his staff can make him a scary force in the Falcons' 4-3 defense end rotation.
Caleb Brantley, DT, Florida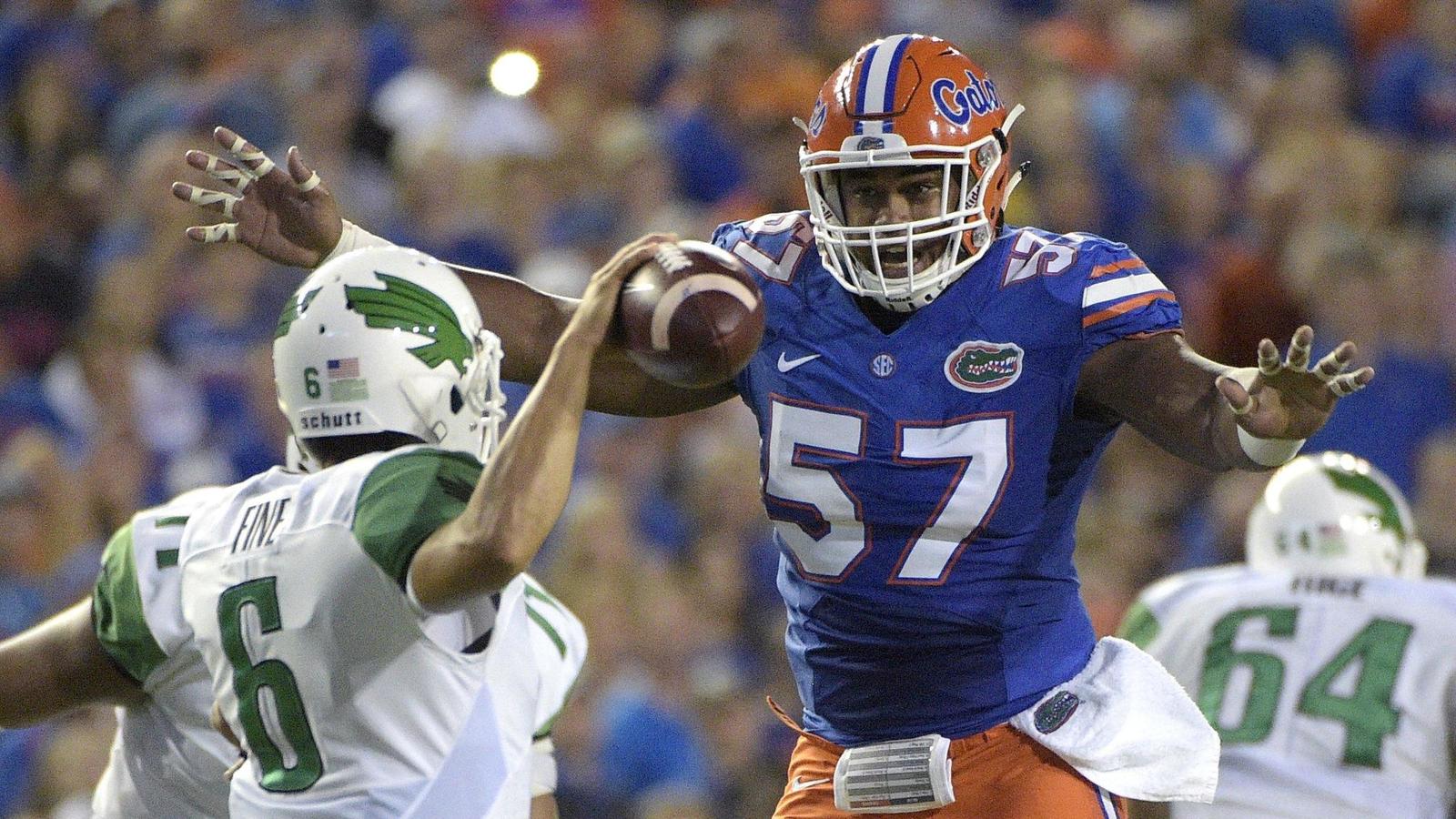 (Phelan M. Ebenhack / AP)
If I were to guess who Dan Quinn's pick would be in the first round, it would easily be Caleb Brantley. Apart from being a Gator (which Quinn obviously loves), Brantley has an extremely high motor and gives one hundred percent determination on every snap. Next to the increasingly impressive Grady Jarrett, Brantley could turn the Falcons interior into a dangerous duo. Though he does not always show up on paper, the disruption he creates in the pockets can give a quarterback fits, even if it doesn't necessarily correlate to sacks for himself. Just like Jarrett, he has a low center of gravity and is stellar at the point-of-attack. If the Falcons can get these two players next to each other, it could go miles toward helping this defense in the trenches.
Takkarist McKinley, DE, UCLA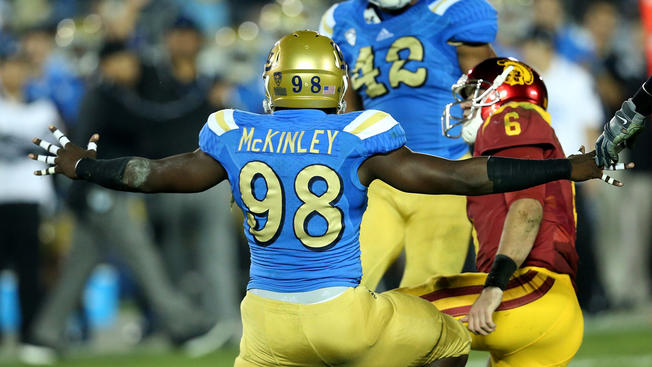 (Stephen Dunn / Getty Images)
Though he will be rehabbing a shoulder injury for the next few months, McKinley's breakout 2016 campaign could allow him to fall right into Atlanta's lap at the end of the first round. He is an extremely similar player to Vic Beasley in the sense that he relies heavily on his quickness and agility to get past blockers. McKinley, an outstanding track runner in high school, is known for his ability to blow by linemen, which allowed him to rack up 18 tackles for loss and 10 sacks in his explosive 2016 season. The biggest concern with him is his slim frame, however, he should be able to bulk up over a year or two in a similar fashion to what Beasley did when he came into the league.
Forrest Lamp, OG, Western Kentucky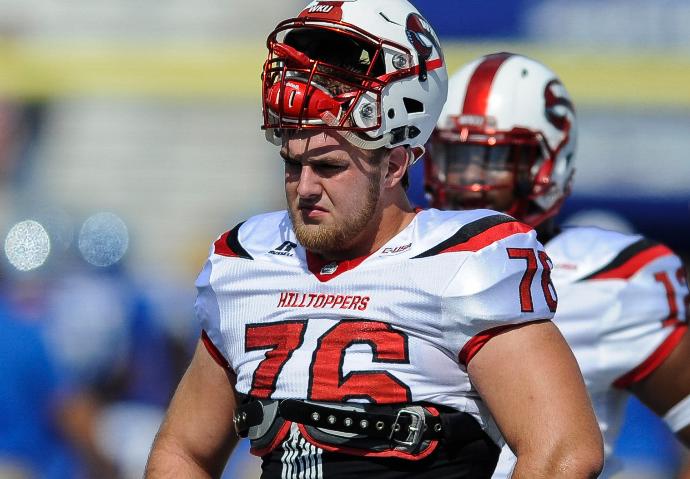 (Steve Roberts / WKU Athletics)
Most of the Falcons' needs are on the defensive side of the football, but with an aging free agent in Chris Chester, the Falcons still need to find a starting guard for the future. Although he isn't coming out of a college football powerhouse, Forrest Lamp is easily the best guard prospect of this year's draft, despite being a 2-star prospect out of high school. Though some scouts knock him for being a bit undersized, his technique is highly polished and he has held his own against some of college's premier pass rushers such as Jonathan Allen out of Alabama. Lamp could fill in as a starter in day one for Atlanta, and could even be an upgrade as a rookie over Chris Chester. If Atlanta can make some moves during free agency on defense, Lamp may be too good to pass up if he fall to 31.
Although these four players have been paired with Atlanta the most by analysts, no one really knows who the Falcons' front office is targeting. They surprised most of the league by taking Keanu Neal at 17 overall last year, while most mock drafts had them going defensive line or linebacker. Some other names that have come up for pick 31 include Montravius Adams and Carl Lawson out of Auburn, Temple's Haason Reddick, and Alabama's Tim Williams. Though unlikely, Thomas Dimitroff and Co. could even opt for depth and pick someone such as freak athlete cornerback and returner Adoree Jackson out of USC. Atlanta's positions of need are all in the trenches, but they may feel inclined to go a different route if someone left on the board has too much potential to let slide. As the Falcons make signings over the next couple weeks, their draft approach could become clearer, but until then, it's anyones guess as to which prospects they have their eyes on.