Let's face it. Almost anyone who was born in the 90s or earlier has found themselves contemplating if they would even want to raise a child in today's society.
From the digital age to the glorification of gang culture, there are tons of issues that any parent would dread dealing with if they had a child in grade school during the 2000s.
For many Atlanta parents, that feeling has been amplified.
It's no secret that a lot of Atlanta public schools have been struggling to improve test scores and get control of the children in the halls. Videos of fights on school grounds go viral almost daily and it seems like there is very little any staff member can or will do to put a halt to the violence.
So when one mother discovered her son was getting jumped at school, she took matters into her own hands.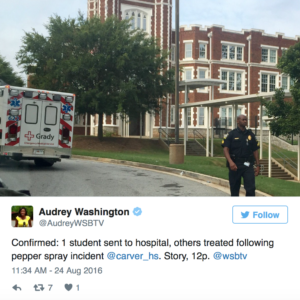 Shawanda Favors is facing charges after she pepper sprayed a group of students at the New Schools at Carver in southeast Atlanta on Wednesday morning. No serious injuries were reported but one student was taken to the hospital.
Needless to say, pepper spraying students is never the solution to this type of problem but Favors' explanation of her actions resonates with many Atlanta parents.
"It's like a war zone," she said about her son's school, according to WSB-TV. "It's crazy."
She says this isn't the first time her son has gotten jumped at the school so she finally took action herself.
Favors was taken in by authorities for "inappropriate conduct," according a statement from Atlanta Public Schools, but other students say they find little to no fault in what Favors did.
"She was just trying to defend her son," one student told WSB-TV.
It is an unfortunate situation that is far more common than anyone would feel comfortable admitting. While Favors may be one of the few parents who decided to physically confront students engaging in violent activities, there are many parents who have always imagined themselves doing the exact same thing.
"I know what she did is wrong but I can't say I wouldn't have done the same thing if I was in her shoes," Felicia Ward, who has two children in the Atlanta public school system, tells GA Followers. "These teachers feel like they can't touch the kids so you know they won't stop it. What are you going to do? Watch your kid get the s**t beat out of them?"
One can only hope that this situation will shed light on a serious issue taking place inside Atlanta schools and urge officials to make changes that will make students feel safe in the classroom again.