A Georgia teen is being sued for allegedly driving distractedly, using Snapchat as she sped into another car at 107 miles per hour, Buzzfeed reported Wednesday.
Christal McGee and the social media company are both the defendants in a lawsuit filed by Wentworth and Karen Maynard in Spalding County.
This slideshow requires JavaScript.
The 18-year-old had allegedly been trying to snap a photo from behind the steering wheel of her father's Mercedes c230 driving faster than 100 mph when she reportedly crashed into Wentworth on Sept. 10, 2015. One of Snapchat's filters utilizes GPS to allows users to display their speed over a photo or video.
According to the Law Offices of Michael Lawson, the firm hired to file the suit, one of McGee's passengers saw the Snapchat filter display a speed of more than 100 mph before the teen said, "I'm about to post it."
That's when she crashed into the back of Wentworth's Mitsubishi Outlander. He was about to start a shift driving for Uber. McGee allegedly took selfies following the incident, one of which contains the caption, "Lucky to be alive" as the teenager lies on a stretcher.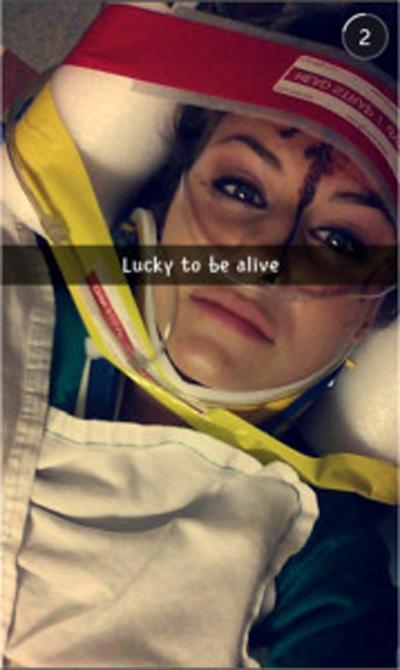 Meanwhile, Wentworth has suffered permanent brain damage, his lawyers say. He currently requires a wheelchair or walker to get around and suffers chronic pain from rotator cuff tears on both his shoulders.
"Wentworth would get up on his own, make his breakfast, go to work and cook dinner," his wife, Karen said in a statement. "Now he's so tired he falls asleep in his wheelchair during the day. We used to sit on the sofa and watch TV in the evening, and Wentworth would hug me. Now, he can't do any of that anymore."
In addition to suing McGee, Wentsorth's lawyers also named Snapchat in the suit arguing, "why would Snapchat create a filter that encourages users to showcase their speed?"
The suit alleges that Snapchat puts the public both at risk of coming across distracted drivers and encouraging those drivers to travel at high speeds.
via Oregon Live
What are your thoughts on this?