The Anchor The Social Media Era Needs
An Emmy award-winning reporter. A leader in the newsroom. The epitome of a super mom. A social media mastermind.
It's hard to find a way to describe WSB-TV's Jovita Moore in a way that doesn't sound grand and glorified but for anyone who has remotely followed her career, that should come as no surprise.
Moore has successfully dominated media markets of all sizes and has been praised by a variety of publications, including Jezebel and Georgia Trend, for her outstanding achievements. She is, by all means, an exemplary role model and a staple in Atlanta's pop culture.
But as I sat in the spacious lobby at WSB-TV and started talking to a beautiful, makeup-free Jovita Moore with her feet nestled in UGG boots and her hair pulled back in a ponytail, one thing became glaringly obvious.
This is a woman who is just as humble as she is talented and successful.
"People say, 'Oh you're a celebrity' and I think, 'No, I'm a news person,' "Moore explained. "I just don't see myself that way at all."
While others see Moore as a favorite on social media, a voice of Atlanta and a celebrity on the rise, she simply sees herself as a woman doing her job—a job that just happens to place her in front of the camera every day.
But that mentality may very well be a part of the reason why WSB-TV has continued to dominate in the ratings with Jovita Moore and Justin Farmer on the front lines of evening weekday newscasts. Whether you're welcoming these anchors into your living room via your television or you're fortunate enough to be sharing the same space with these dedicated reporters, you will always feel like you're in the company of a kindred spirit and a long-time friend.
Just like the rest of her colleagues at WSB-TV, Moore finds no reason to deviate from her roots or alter her personality for the sake appealing to any particular audience.
She is, at her very core, a native New Yorker with humble beginnings.
As a child, Moore was always actively following the news—not just because she thought it was important to do but also because she didn't have much of a choice.
"I grew up in a one-bedroom apartment," Moore explained. "So the living room, where the TV was, was my room. My mom had the bedroom and I had the living room. That's how I grew up. So when my mother came home from work, she turned on the news every day. I had no choice in the matter."
Naturally, her mother's own love for the news trickled down to her daughter who grew up idolizing the anchors she saw on television every day.
She never imagined that one day she would be the one filling the anchor chair as young girls would watch her with that very same hopeful gleam in their eyes.
"I hear it from people who say, 'Oh my daughter watches you all the time. My daughter wants to be just like you,' "Moore said. "That was me, you know. I was that girl but it's crazy to think people are doing the same thing to me. It's flattering and I'm honored by it but at the same time it's hard to get."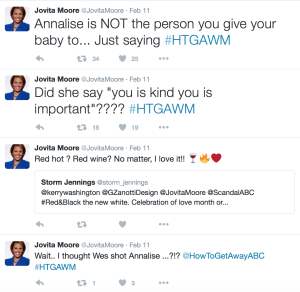 For her over 27,000 Twitter followers, however, there's nothing hard to get.
Whether she's tweeting about How to Get Away With Murder and American Crime or taking the time to joke around with the fans that tweet her every day, Moore's warm personality pours through her social media outlets in a way that reminds her viewers just how genuine their local anchor really is.
That's precisely why many of her online interactions with fans quickly grow into viral sensations.
Perhaps the best example of this was when the seasoned anchor took a short break from reporting local news in order to comment on the now infamous beef between rappers Drake and Meek Mill.
As memes and gifs spread throughout the Twitterverse like wildfire, only a few tweets were considered to be true nails in Meek Mill's coffin.
Moore's was one of them.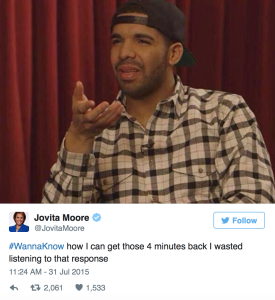 "#WannaKnow how I can get those 4 minutes back I wasted listening to that response," Moore tweeted shortly after the Philadelphia native released a diss track aimed at the self-proclaimed 6 God.
The tweet garnered so much attention that it was even shared in an article by E! News that officially declared Meek as the loser of the rap feud.
But for those who were shocked to see Moore commenting on the hip hop beef at all, it's important to remember this anchor's roots and her love for hip hop.
"It's genuine. It's just a part of me," she explained. "People are always shocked when they hear I listen to hip hop…Yes I listen to Drake all the time. That's who's on in my car all the time. I'm waiting for Jay Z to drop something so it can be Jay Z all the time. That's just how I am. That's how I've always been."
In addition to Drake and Jay Z, she's also a huge fan of J. Cole and even had to give a shout out to one of Atlanta's most popular rappers.
"I have to give a shout out to Future," Moore added with a light laugh. "What a Time to be Alive is definitely in rotation right now."
But her impact on social media goes well beyond pop culture tweets and settling hip hop beefs.
She is consistently active online and is constantly sharing news updates, entertaining memes, fun photos, responding to fans and otherwise reminding us all why she is the beloved media figure she is today.
Moore's attraction to social media is easy to see and it's a love that spawns from the very same thing that attracted her to the world of broadcast news in the first place—immediacy.
Moore's first internship landed her in one of the most highly respected newsrooms in the country, but even the New York Times couldn't compete with local news stations when it came to breaking the news first.
"I'd be sitting at the New York Times at like 5 o'clock and the same stories that our reporters were still working on were already on the news," Moore said. "So I'm sitting there and even as an intern I'm just like, 'Dang.' Then I realized the immediacy of television."
While the New York Times' reporters were often able to provide a different angle to certain stories or gather new information that hadn't been covered in the daily newscast, the fruits of their labor wouldn't even be on display for the public to see until the next morning. It was simply too easy for the world of broadcast news to beat print publications to the punch.
That is, until digital media emerged.
Giving everyone the ability to share news immediately online, whether it's through a digital publication or social media platforms, seemed to level the playing field in the race to have the latest breaking news.
For some reporters and anchors, the world of social media is still filled with tricky, slippery terrain and the difficulties of navigating your way through such a rapidly changing digital environment has forced some newscasters off the web and out of jobs.
That is far from the case for someone like Jovita who has embraced the world of digital and social media in a way that some may consider to be unprecedented for an Atlanta anchor.
Many anchors have accounts on social media platforms but Moore is one of the few Atlanta anchors that has an unwavering presence online. So much so that even a fan page dedicate to Moore has emerged on Instagram.
But a social media presence isn't just about fun and games. Moore explained that the digital world has also pushed everyone at WSB-TV to take their news coverage to "another level."
"We realize now that everyone can get everything they need right here," Moore said as she lifted up her cell phone. "And so I think we've done a good job of keeping up with technology and advancing it in some cases and just being on top of it. So it's important to be engaged because we know our viewers have so many different sources and places where they can find their news. We have to be on top of it. We have to be engaged."
It's also changed just how much true free time reporters really have. Even when Moore is off the clock, she can't be off the grid.
"I have to realize that if there's something happening, I may not think I'm on the clock until 2 but if something is happening at 10 am or 11 am I have to be tuned in and I have to do my part on social media," Moore explained. "The news anchor's account can't be silent all day."
Moore's account rarely is and it likely won't be for quite some time.
Even when Moore finally decides to leave the anchor chair behind, she doesn't plan on leaving WSB-TV or the city that she believes still has so much to offer.
"If you were going to be in a southern city, especially in the 90s, Atlanta was the place to be," Moore said. "And for a southern city, Atlanta has always stood out as being very progressive and very metropolitan…there was no question that this was the city where I wanted to be. It was because of all those things—the culture, the history, the music, all of that. Even as a state Georgia has so much to offer…as a state we can offer the movie industry so many different settings and landscapes."
And now, thanks to Moore and her many beloved colleagues, it can also offer a whole new generation of dedicated, entertaining and incredibly relatable newscasters.