During the Winter – we go to the mountains. During the Summer – we go to the beach. During the Spring – we stay indoors because of all the nasty pollen in the air. But, in Fall, we could go to anywhere in Georgia and still find something to do. With Halloween approaching us quickly and the beautiful leaves falling all around us, there's countless festivals to attend, hayrides to ride on through the pumpkin patches, along with the great trick-or-treat opportunities for the youngsters to stock up on their candy for a few months, and the haunted houses for the not-so-young kids.
Pumpkin Festival of Stone Mountain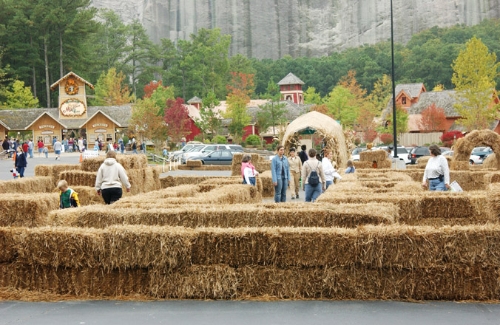 The atmosphere at this welcoming festival is extensively child-friendly and offers several family-geared activities. All guests are welcome to bring their children, dressed and ready in their Halloween costumes, to come enjoy Spookley's A-MAZE-ING Adventure, the Dance-A-Long Party Parade, scavenger hunts, autumn-inspired arts and crafts, and the Spookley Meet-and-Greet in the Pumpkin Patch. There's even a cute and corny gameshow entitled "Pumpkin Palooze Extreme" that employs audience participation and an intriguing "Wheel of Misery". If interested in this festival, (or rather, if your child is reading over your shoulder right now and THEY'RE interested in the festival), you better buy your tickets quick! The festival leaves on October 26th!
Spooky Film Festival in Atlantic Station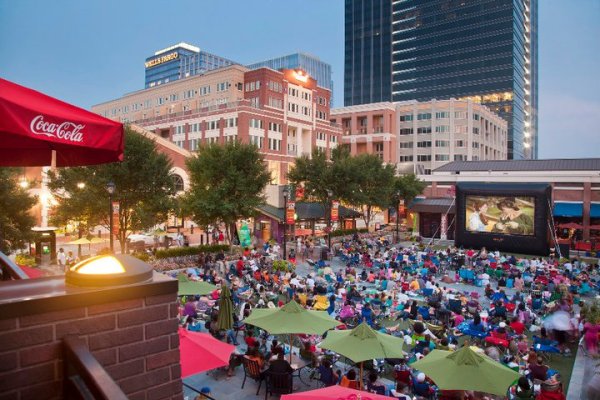 Who doesn't love a scary movie? Especially when it's FREE! Atlantic station presents to us, this wonderful fall season, an opportunity to sit in the comfort of Central Park every Friday this month and enjoy a free scary movie. Don't forget a blanket and snacks (I highly recommend checking out Kilwins for some amazing ice cream and sweets while you're there), and cuddle up for a well-spent night under the stars. Movies start at dusk!
October 10: Ghostbusters
October 17: Casper
October 24: Beetlejuice
October 31: Hocus Pocus
Uncle Shuck's Corn Maze in Dawsonville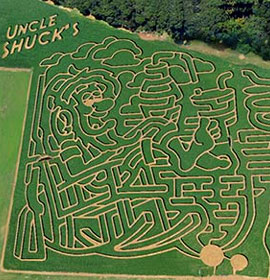 If you're into the corn maze fun – you won't want to miss out on this 12 acre field of corn in Dawsonville, Georgia that provides for a crazy new maze every fall. Once you've found your way through this ridiculous maze, you can get lost in the pumpkin patch right next door – that one's a little easier to find your way out of. Uncle Shuck's is an excellent location for kids of all ages, though the little ones may not enjoy the big corn maze as much. No fear there, there's a kid CORNer with a mini soybean maze that is free for the kids to play in! Once you've completely exhausted yourself from the mazes, there's nothing better to do than sit back and enjoy a nice bonfire or go on a relaxing hayride through the complex.
Fright Fest at Six Flags Over Georgia
If you haven't been already – Fright Fest is definitely a worthwhile trip. Just imagine – you've enjoyed your morning and afternoon riding all of the rides at Six Flags and just as dusk draws near, you begin to realize that amongst the impatient customers waiting in line around you to ride Goliath, there's ghouls and goblins and clowns and all those alike beginning to lurk throughout the park. The suspense is unmatched as you hear the screams coming from all over the park of all the victims subject to the frightening scares evoked from these villains. Though it's not an event I'd recommend for younger children, it's definitely a fun idea for an outing with your friends. As if the rides weren't thrilling enough, you now have a few extra people to watch out for. For all you know, you'll turn around and be faced with a giant clown standing between you and that next ride. The fest continues up to November 2!
Netherworld Haunted House
You've probably heard about it all October, and if you're anything like me – you're too much of a chicken to go. The house is indeed all its hyped up to be. Known for the special effects and amazing costumes, Netherworld is a haunted house unlike any other. The warehouse-sized structure employs 100 live actors alongside more than 200 animated monsters each year, always adapting to a new theme as well. The creeps begin in the parking lot and they won't stop 'till you're back in your car at the end of the night – that is, assuming that you have the guts to get out of the car in the first place. You should also check out the "9 Best Haunted Houses in Georgia".
Though Halloween isn't a favorite holiday amongst everybody – there's nothing wrong with enjoying all the season has to offer. No matter if you have some kids begging to trick-or-treat 'somewhere cool' this year or you're a teenager looking for something to do with your day off work, I do hope that you will take some time to check out some of these awesome events this October!