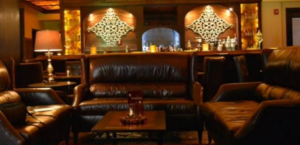 As of this summer, pedestrians turning left off of Peachtree and descending Andrew Young Boulevard will be greeted by a curious sight: an exceptionally well-dressed gentleman braving the August heat to guard an antique London phone booth. While he'll cryptically address questions for the curious, those in-the-know will squeeze into the red phone booth and dial a secret 10-digit number on the rotary phone, opening a hidden door into Atlanta's newest speakeasy.
Helmed by co-founders Greg Grant and Stephen de Haan, Red Phone Booth is the successor to the now-closed Prohibition in Buckhead and aims to provide a classy, hush-hush prohibition experience to members and guests. Upon your arrival, a member of the wait staff will bring you your signature cocktail (from memory) as you recline in your corner of the brass and leather den, lightly filling the surrounding air with haze from one of the lounge's premium, in-house cigars.
But the authenticity of the experience doesn't end at the signature cocktails and tasty Maduros; Mr. Grant took the effort to save every element possible from the building's original 1917 construction, from the honey onyx bar to the original brick flooring.
I make an effort to dip into speakeasies and cigar bars whenever possible to light up a stogie, but I can't say I've ever been to one as atmospheric and immersive as this one. It's 4000 square feet of pure class, character, and cool.
Benefits of membership include a private locker with an engraved nameplate and express entry through a bio-metric scanner. See more details on their website. Red Phone Booth is open to anyone, as long as you or someone in your party has the secret number…