A new holiday pop-up, called Santa's Fantastical, is open at Perimeter Pointe. It's billed as an immersive, Instagram-ready wonderland. Structured in 12 unique "worlds," each area has a different theme or interactive component. What should you do first? It depends. Here's your guide to making the most of your visit, whoever you are.
1) The Instagram star
Whether you have 22 or 22 thousand followers, Santa's Fantastical promises the best eye candy possible for one colorful, envy-inducing feed. We're talking about a photo of you riding a unicorn trimmed with gold and flowers against a backdrop of candy-colored balloons. (Dear set designers, how did you know I love all these things?) Or you inside a giant glittering ornament surrounded by mirrors.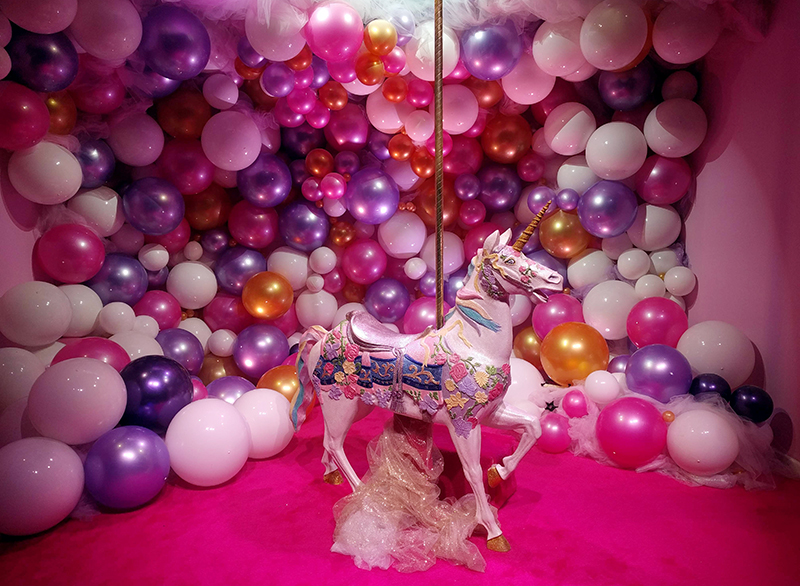 If you're serious about getting the best photos, go earlier in the day for lighter crowds. Even when it's busy, you don't have to share your scene. People will line up and parents will coral their kids while you have your moment. This is your time to shine. You do you.
2) Mom or Dad and tot(s)
Bringing a little one? They may not appreciate the scale of artistry that went into this place. They may just stare around wide-eyed. This isn't really about them, is it? Yes, there's a huge "ice" slide and an area where you can make your colorings come alive on a screen the size of a wall that has something to do with Santa's workshop and magic. And kids dig that. But I saw the parents at Santa's Fantastical, especially the ones with really young tykes. (Kids under 3 get in free!) They were there to capture priceless photos of their too cute elves in a winter wonderland setting. (I actually saw one baby dressed as an elf and this is genius and you should do it, too.)
Make sure to book a slot with Santa. It's free, but you'll need to add it to your online order. Once you check in, they'll text you when they're ready, so no waiting in line and no grumpy toddlers. Of course, you don't have to have kids to meet St. Nick. Just be on the nice list.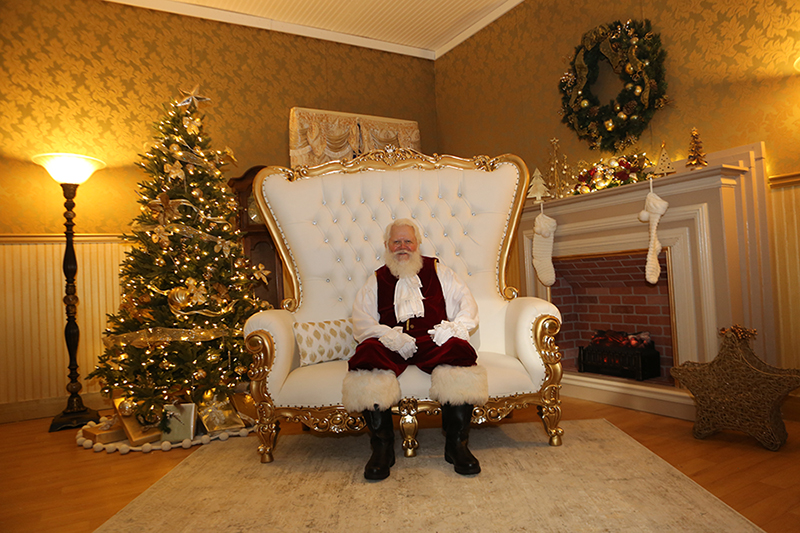 3) The way-too-in-love couple
If there's anywhere your hand-holding and gazing deeply into each other's eyes is welcome, it's here. Bring your date and pose to your heart's content. Retro Christmas is the first room to head to. An actor will invite you into her "home" and even offer to take a photo while you sit on the sofa with presents or pretend to trim the tree.
There's also a mistletoe hung above a giant heart with the words "kiss me" in lights, a subtle nudge for those not be familiar with the tradition. I couldn't get a decent couple's selfie here matter how I angled my phone, so maybe make it a double date so you can photograph each other because who doesn't like an audience while kissing?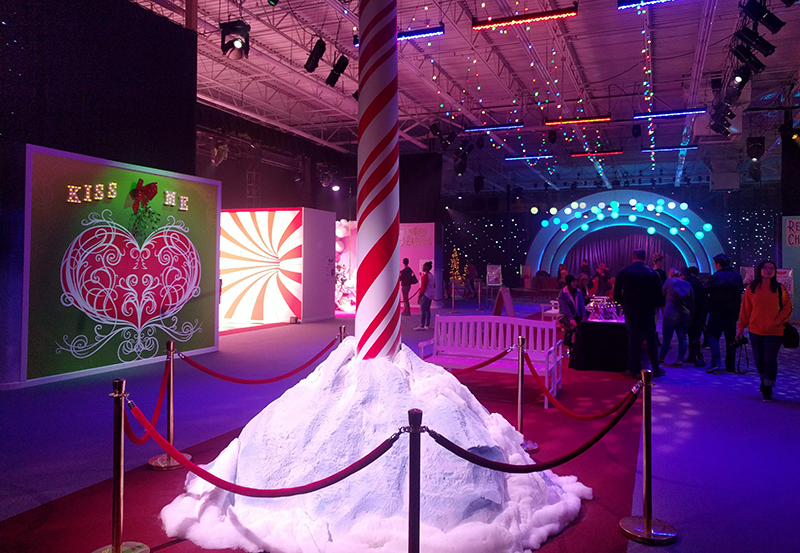 If you're more about real romance and quality time and that sort of thing, you can also just wander around, feeling generally festive. The Winter Dreams area, with the mood lighting and music of the Infinity Ornaments and Laser Trees, is especially good for this.
4) The Christmas enthusiast
Been looking forward to Christmas since June? Why don't you already have a season pass here? There are dozens of trees, tacky lawn ornaments, a window to the North Pole, fake snow and every other yuletide cliché you can dream of.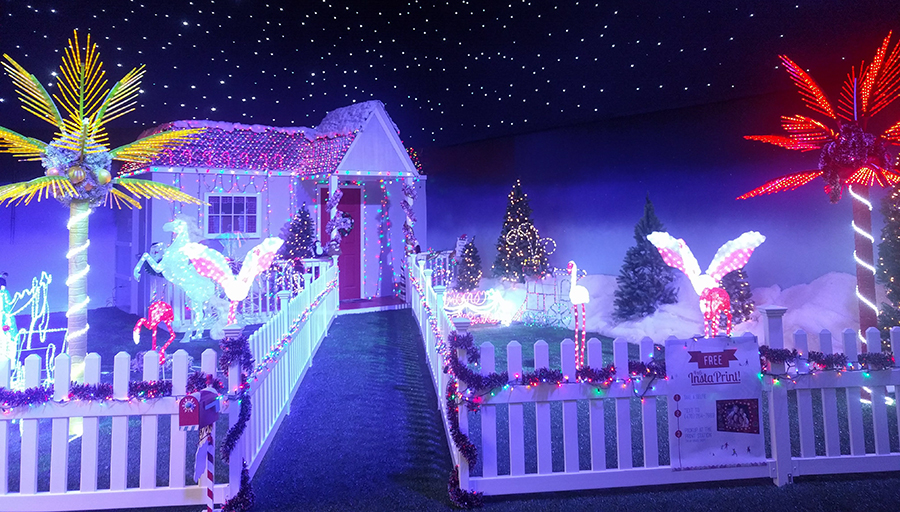 With a little planning, you can even bring some of this into your own holiday decor. Print off your favorite photos for free by texting them to a number on one of the signs. Depending on what sign you choose, you'll get a different frame. These would slide adorably into a greeting card or fit nicely in the stocking of your mom who always complains she never has enough pictures of you. It's also a brilliant way to personalize a gift. You can write "from" and then your name or "from" and then you riding in a space-age car from Christmas future — which is better?
5) The Grinch
Not feeling merry this year? Maybe it's because you haven't seen dancing ornaments or walked through a tunnel of lights or nearly fallen into the candy-cane vortex at Peppermint Palace.
Your best bet to banish even the chilliest bah humbug is a live show. A troupe of impossibly smiling cast members twirl across the main stage to the tunes of seasonal classics. The costumes and dashes of comedy make these segments genuinely entertaining, and they vary so it's worth catching more than one. Shows happen once or twice in an hour, so you could easily miss it if you're just breezing through.
If you haven't found your Christmas spirit by the end of this, we can't help you.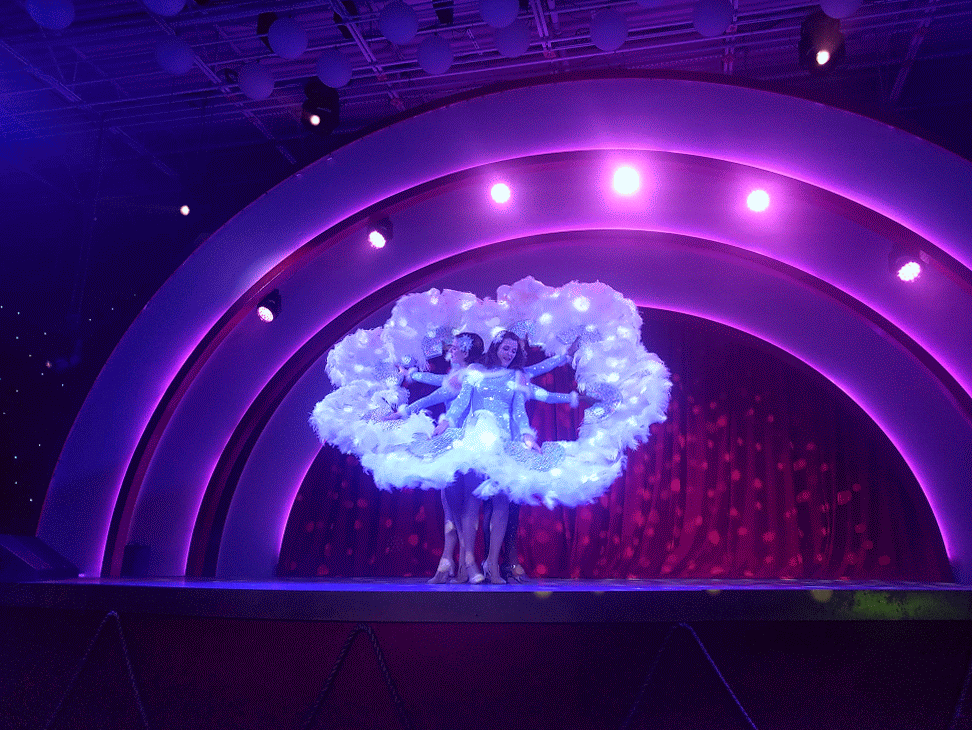 Ready to go?
Santa's Fantastical is open through Christmas Eve. Admission is $34 for adults and $26 for kids. There are family and couple packages that make it a little more affordable, but you'll probably spend no more than two hours here unless your kid is having a blast or you're stocking up on holiday Instagram posts for next year why am I just now thinking of this?
That said, it's not cheap. If you're one of those people who never take a photo, this may not be for you (unless you're going with someone who loves taking photos and then you'll be charmed by their enthusiasm). If you don't like Christmas (how is that possible?), then this probably won't be your thing either. Everyone else, clear out space on your phone and bring your friends to ring in the holidays in the prettiest way possible.