A Savannah State cheerleader is the subject of a multi-university investigation after she posted on Facebook that she was harassed at Savannah State's opening football game against Georgia Southern.
Ma'Kyha Sims said on Facebook that she was called racial slurs and had bottles thrown at her by a group of Georgia Southern fans.
"This maybe the worst cheer experience ever," Sims said on Facebook. "I'm just so disappointed in the Georgia Southern fans and their cruel racial comments and actions."
Jennifer Wise, a spokesperson for Georgia Southern said that administrators from both universities have met to discuss the Georgia Southern fans' actions and to launch a full investigation.
Some fans reported seeing one person, an unnamed 22-year-old male from Mt. Dora, Florida, being escorted from the game, who was allegedly the student who threw the bottle.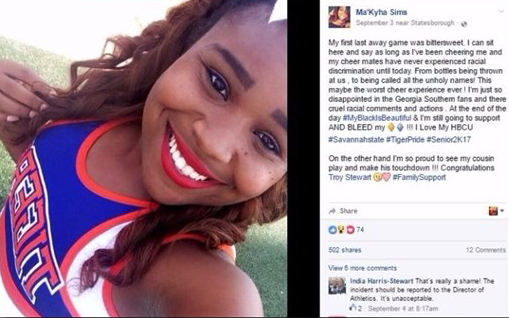 Sims has chosen not to press charges against anyone, and all punishment will be handled by the university.
Many people from Savannah State, Georgia Southern and others have commented on Sims' Facebook post in support of her and in disbelief of the students.
"I apologize whole heartedly," one person said on Facebook. "I hate to hear that anyone is being discriminated against and antagonized by people that are my 'peers.' There is no excuse for the behavior that the racist GSU [fans] exhibited. Praying for you and your team."
Another commenter talked about the excessive rowdiness at Georgia Southern games.
"This is disgusting behavior," the user said. "I hate that this happened to you. Their stadium gets so rowdy (based on my own poor, but much more mild, experience cheering there) and the school does nothing about it. You are strong gorgeous leader for your team, your school, and your community. Don't let them rain on your parade."
Sims said she will not let the incident get her down, and she will continue to support her team.