The Praise Academy High School Robotics team, entitled Twisted Axles, has advanced to become one of 127 teams worldwide, eligible to compete for a national title.  With 42 countries to be represented in the 2016 FIRST Championship, Twisted Axles is working hard to raise $10,o00, in order to represent not only Georgia, but the United States of America.
The team has built a robot named Bruce. One of Bruce's greatest qualities, is his ability to lift himself from the ground and hang from a bar. Although the robot can also pick up items and deliver them while climbing a steep hill, this action alone has contributed to high points.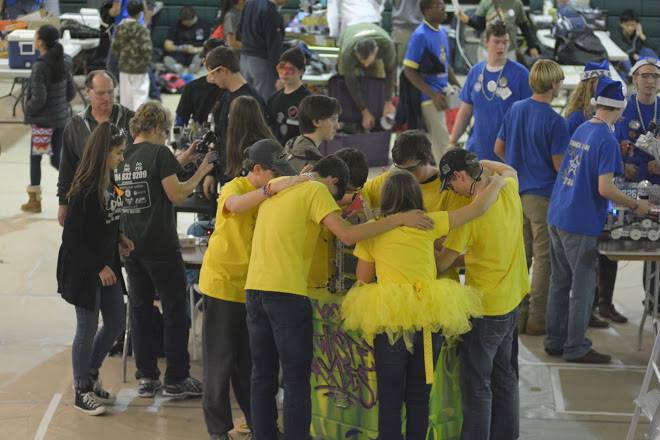 They have defeated everyone in their path, first dominating Georgia robotics teams and then the entire southeast.
In total, they have competed against 36 teams. So, why has there been difficulty finding support for the Twisted Axles? Praise Academy is a faith based private school, which most corporations find difficult to support.
In a statement posted on the school's Facebook page, the Praise Academy states, "Most of their competitors have corporate sponsors. However, because our team represents a faith-based school those same industry leaders will not consider sponsoring our team."
With hard to find financial assistance, the team has opted to receive public donations and have launched team fundraising efforts.
The team has only been in existence for 4 years and have surprisingly excelled quickly under the guidance of team coach Mark Runion. In an explanation as to why the team has performed so well, Runion tells 11Alive, "They just really work hard."
Praise Academy is a small private school in Powder Springs, GA, with a little over 300 students, grades K-12. There are just 116 high school students in which the Twisted Axles are comprised of.
The FIRST Championship will be held April 27-30 in St. Louis, Missouri. The event attracts 40,000 spectators and teams each year.
According to 11 Alive, you can make a donation towards the Twisted Axles appearance in the FIRST Championship by contacting Cindy Runion at cindy.runion@praiseacademy.com or visit this link to give.