Georgia is a big water bully!
Well, that's how Florida senator Marco Rubio sees it anyway…and truth be told, he might have a point.
The entire nation was stunned when the truth about Flint's water crisis came to a boil and it has now caused all eyes to remain focused on water issues all across the country.
Ultimately, that brought Georgia under additional scrutiny for an issue that has been tainting the state's reputation in the political sphere for quite some time.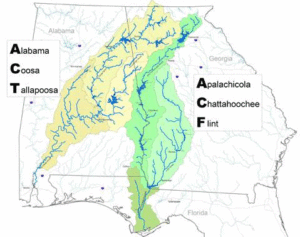 "The Florida senator took to the Senate floor Thursday evening to blast the way water is managed in the Apalachicola-Chattahoochee-Flint (ACF) and Alabama-Coosa-Tallapoosa (ACT) river basins," the AJC reported. "Florida and Alabama have long alleged that Georgia takes out too much water for metro Atlanta at the expense of its neighbors, particularly harming the oyster industry in Apalachicola Bay in Florida."
It's an issue that's so troubling, Rubio even teamed up with his democratic colleague Bill Nelson to put a stop to Georgia's alleged water hogging­. In today's political landscape, that says a lot.
Rubio, Nelson and Alabama's two GOP senators joined forces to "push for a vote on an amendment to a U.S. Army Corps of Engineers spending bill that's currently being considered on the Senate floor."
The amendment would essentially mean that water allocations would be put on hold until Georgia, Florida and Alabama can find common ground regarding their shared water basins.
"Absent such an agreement between governors, water continues to be withheld and the situation has now become dire in my home state of Florida," Rubio said, according to the AJC.
It certainly seems like the Florida senator is fighting hard to do right by his home state after he failed to win the majority of their support in the presidential primaries.
Of course, it's important to note that the latest water wars are about more than popularity.
Allegations of Georgia's water hogging span back about 20 years and it could soon cause relationships with its southern neighbors to crumble.
Needless to say, Georgia's senators aren't in favor of the amendment, which means the water wars will continue as the drama spills out on the Senate floor in coming weeks.