Raising The Bar
If you're reading this, you've spent more than enough time wandering around Atlanta in search of that one spot to end (or start) your night, where the drinks don't dry your pockets, and people keep their cool.  Unfortunately, that isn't easy to find, especially if you're stuck in the Buckhead bar scene, swamped by 'Chads' and mobs of high-heeled women who just can't seem to make it over that curb.  Good news: after years of trial and error, I've put together the first of hopefully many lists of bars, restaurants, and clubs that will surely set you off on the right note, so here we go – pull up Word, pull out your notepad, or pull out your phone – take notes, and get ready to shake things up.
1. Bantam Pub
If you haven't noticed, this place just sounds badass, and that's because it is.  Having lived at the Block Lofts, I was among the first to enjoy this gem amongst pub wannabes,' so take my word when I say you can roll through anytime, eat cheap food that will make you rethink what restaurants you eat at, and a staff that will make you feel at home.  Be careful though, you might miss it if you don't look twice, and you're going to end up loving that.
2. Blind Willie's
I'm positive most of you have heard of Virginia Highland's own Blind Willie's, so if you are a blues, classic rock, or rock & roll fan (in general), you already know what it's all about.  If you find your way to Blind Willie's, you will be among the youngest in attendance on any given occasion, but if you want to hear the music that defined a generation, it doesn't matter to you.  Blind Willie's caters to a particular breed of music lover – the kind who doesn't care about the bar, but what the bar has to offer.  So, if that's you, choke up the cover, get inside, and rock out.  Drinks are cheap, the staff is generally nice, and the music may well be just what you need.  Make sure you do some research on who is playing, because you don't want to be 40 years younger than everyone (I'm just saying).  All else aside, Blind Willie's is a landmark for classic music in Atlanta, and it's a venue you should explore if you're even remotely interested.
3. Fadó Irish Pub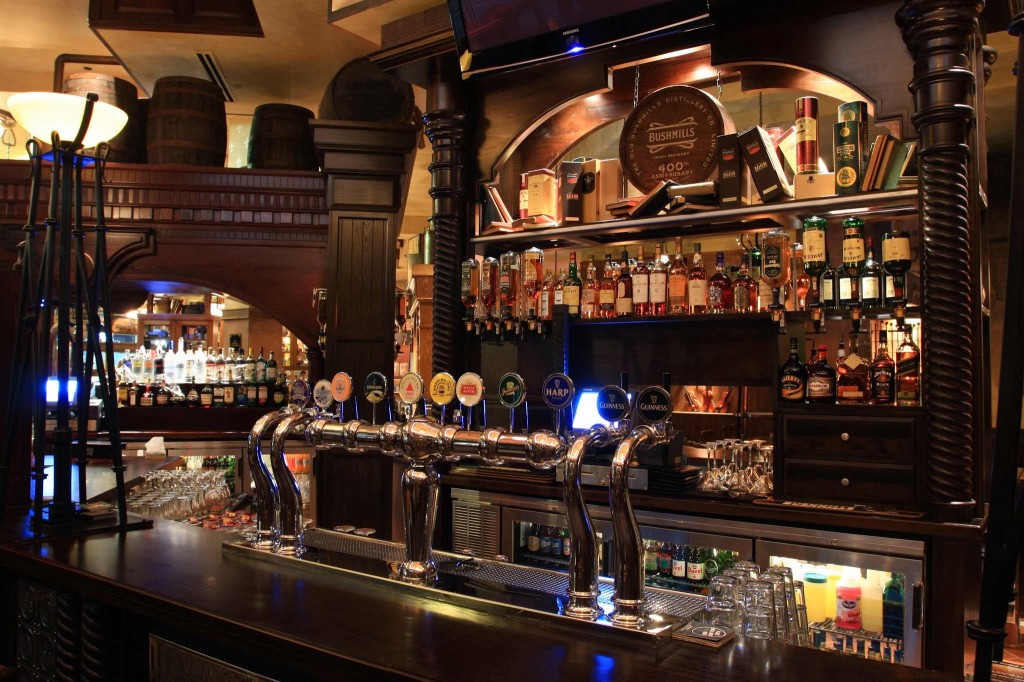 Banners, soccer, Irishmen, and plenty of seating are what should come to mind when you think about Fadó.  You're going to have to step up your presentation a bit, but you won't regret it, especially if you're considering a night in Buckhead afterwards.  Step in for happy hour, pub quizzes on Wednesdays, or wait and watch the World Cup (starting June 12), which is sure to be an all out party.
4. Graveyard Tavern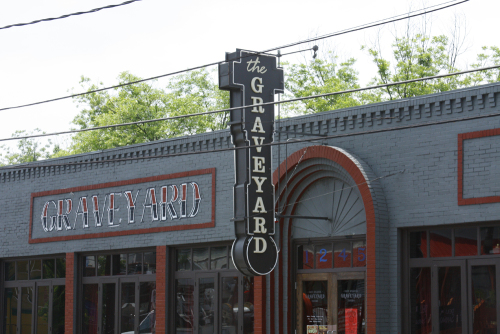 If you don't already know about Graveyard Tavern, let me break it down for you.  Wasted Wednesdays, cheap wings and beer, and Industry Night make for great weekday extravaganzas, but when Graveyard gets down and dirty on game day, you'd better roll through with plenty of friends, because it tends to get wild.  Graveyard has no conservative bone in its body, and if you're tatted up, outside of the box, non-traditional (just the way we like it), and/or just different, this is your spot.  Trust me, you're going to feel at home here. Graveyard is located in East Atlanta Village, and is walking distance from the Earl and multiple venues.  Look, be you, do your thing, bring some cash, play some pool, and you'll get lost at the Graveyard.
5. La Fonda
If you are about to embark on an epic night, and you're friends are looking for the right spot to chow down and drink margaritas, hit up La Fonda. La Fonda is central to pretty much everything conservative, hipster, and hip-hop at the edge of east Atlanta and Ponce.  You'll be happy with both the price of food and drinks, so get your game on, and start the night out right.  Try the Paella and the jalapeño margaritas!
6. Monday Night Brewing
Remember' those drunken, ambitious brewery runs you said you would make with all of your closest friends?  Stop getting drunk and talking about doing something different, and do it the Monday Night Brewing way.  Not only will you enjoy a variety of kick-ass beers, you're going to get that old school, friend friendly' atmosphere where you can line up the rest of your night.  You're going to love the open room feel, so grab yourself a seat, stand up, or cozy up next to the mustache fireplace if you can snag the spot in time.  Trust me, you won't feel weird standing around this bar.
7. Park Tavern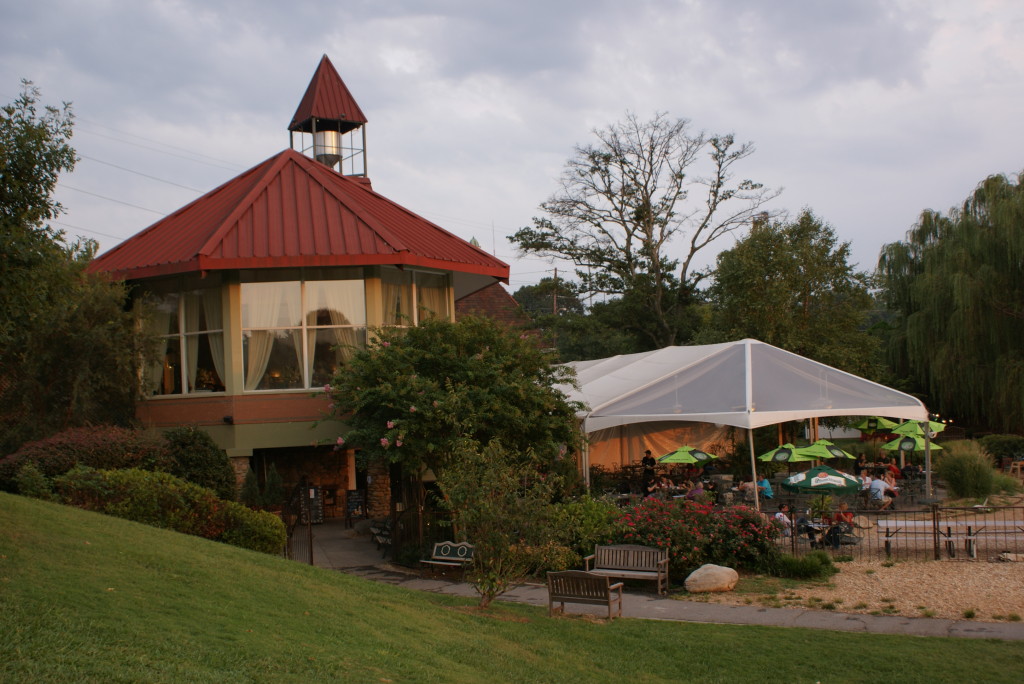 When is the last time you've had sushi in the park?  Never?  Ok then, this if for you, and if it's not, keep reading, because you won't want to miss what else is in store.  Park Tavern is on the corner of Piedmont Park by Monroe and 10th Street.  You may know about the ice skating rink open during winter season, but did you know that when it rains, Park Tavern serves $1 draft beers, or that you can sit outside with a view of the park (dog by your side)?  That's what I thought. Park Tavern also cranks up the stereo for a variety of different musical shows, and will turn out a massive crowd for festivals like Oysterfest.  My point is, if you have some preconceived notion, get rid of it, and give Park Tavern a try.  You won't spend your entire weekend supply, and you're bound to spark up conversations if you make it inside to the bar.  It's an all around win.
8. Star Community Bar
 If you can manage the smell of cigarettes, hipsters, and paying an entry fee ($5-$15) on a packed night, the Star Bar is one of many venues you can visit to grab drinks and watch underground artists do their thing.  You're going to find a lot of rock & roll, boogie, funk, blues, and alternative rock here.  Get ready to rock your face off, because that's what you'll be doing till' 3:00am.  Oh, and if you're overdue for a good laugh, Monday night is a stand up night to be at Star Bar.
9. The Albert
If you are an alternative/electronic rock lover, a Braves fan, and/or a Walking Dead fan, the Albert is a bar you need to familiarize yourself with.  Stop by the Albert on game day or a Sunday night, and you will fall in love.  Talk about hearing the roar of the crowd on a small scale.'  There's nothing like being surrounded by people who enjoy the same things as you, and if you like loose conversation, bar food, and great atmosphere/energy, then this is your primetime spot.  The Albert is located in Inman Park, and is easily accessible by the Beltline, so walk if you can, or take a cab and enjoy yourself.
10. The Bookhouse Pub
 If you're looking for an intimate setting where you can take your woman, or hell, your man out to eat without destroying your wallet, request the back patio at the Bookhouse Pub, and I guarantee you complete satisfaction.  If you're a nature lover, you will be in heaven.  A vine covered rock wall encloses the back patio, my favorite part of Bookhouse, and hand carved wooden tables beg you to sit down and stay for a while.  The drink list will surprise you, and you will have no problem getting comfortable.  The staff rocks, are always friendly, and it's a great place to make memories, as ridiculously corny as that sounds.  However, it's true, and reason enough for me to put my word on you being happy with it.  It's the kind of place you just relax at, and enjoy company.
11. The Earl (East Atlanta Restaurant and Lounge)
What to say about the Earl?  Man,' if you want that up and close, personal concert feel (like Variety Playhouse, but smaller) from a band you know from back in the day, or an underground artist… you've got to go to the Earl.  When you walk in the doors, you'll find yourself at a run-of-the-mill,' East Atlanta Village bar, but it just seems to light up when a band is playing.  Bring your friends, look up a concert that you might like (if you don't know the band), and enjoy yourself, because worst case, you can always walk to the Graveyard Tavern.
12. The Porter (Beer Bar)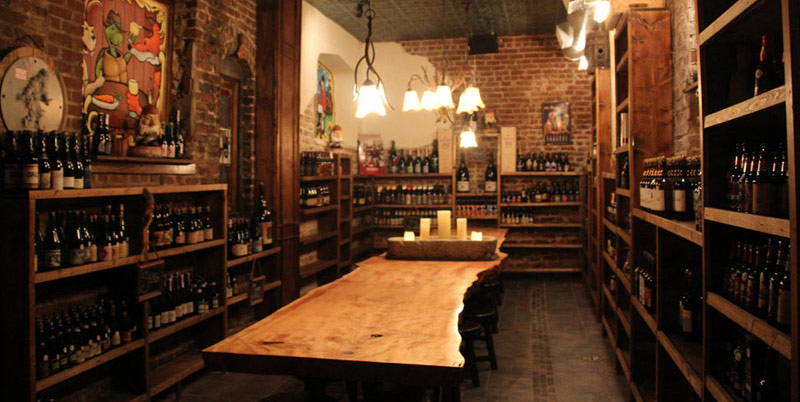 Oh, this is one of my favorites!  If you think you know about beer, but you don't know about the Porter, then you don't know about beer.  My point is, get your ass over to the Porter, because I guarantee you can spend one night a year there and you will not try every beer on the list.  You're going to love the atmosphere, because it is as far from intimidating as could be, considering its reputation, and will welcome you with wooden benches and a beer rack that's hotter than…. you get the point.  Don't forget to try the food either, because you will be more than happy.  The Porter will be slightly more expensive due to its exotic beer list, but if you want to start your night with one or two beers and a meal that will make you feel like a king or queen, get it at the Porter.  That's all.
13. Tongue & Groove
If you're looking for the all out club scene, close to Buckhead, minus the 17 year-old electro-dancers, Tongue & Groove is what you need to visit.  Walk inside and you'll find yourself in opportunity central, but watch your wallet, because money tends to flow just as quickly as the drinks do at the bar.  Side note – make sure you dress to impress, but don't overdo it, because this euro-style club doesn't need more flamboyance, or it's just going to turn into a flock of flamingos.  So, if you're a young professional ready to strip off that work attire and get down, Tongue & Groove is where it's at.
14. Victory Sandwich Bar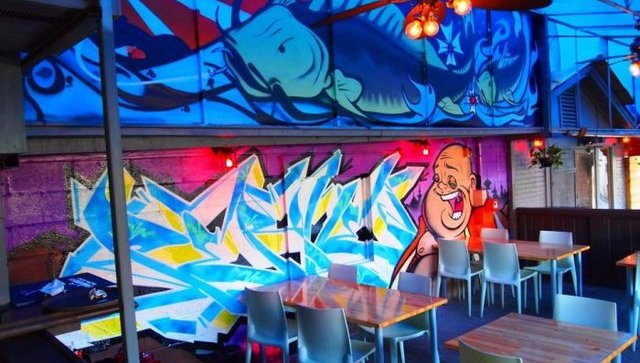 Get your vintage clothes out of the dresser, bring your prized Ping-Pong paddle, and get ready for the best sandwiches you've ever had for a price even reasonably close to what you'll pay.  Oh, did I forget the Jack & Coke slushies?'  No, I didn't.  If you haven't been to Victory, then you're missing out on an Atlanta classic.  The staff is as rad as it gets, and the whole experience will impress you.  Pregame or finish off your night there.  Either way, you will be one happy camper.
15. Warren City Club/Dark Horse Tavern
Despite Dark Horse Tavern being well known as one of the 'douchiest' bars in Atlanta, get there on the right night with some friends, and you'll be surprised by what you find.  Go downstairs and rock your face off, or head upstairs to the Warren City Club.  Now, I will try to refrain from the absurdity that is the Warren, but on one particular occasion, I found myself subject to the will of multiple cougars.  Let's just say that if you want a smaller spot with a balcony and single cougars, you should choke up the entry fee and go inside.   Don't forget that all of Virginia Highlands is in walking distance (if you aren't happy with these venues), and Ponce is literally around the corner, hosting MJQ, Claremont Lounge, Bookhouse Pub, and the Local.
Please "like" us on Facebook, help us get 10,000 likes!
Finally, if you have any suggestions for future editions, contact GAFollowers with ideas and/or talking points that you would like to see covered.  We will do our best to include your thoughts.  I hope you've enjoyed the first edition of "Raising the Bar," and we intend to publish more information shortly.
Disclaimer: All views and opinions are representative of the columnist, and while facilitated by GAFollowers, do not necessarily reflect the views and opinion of GAFollowers and its affiliates.