Bass Pro Shops is challenging families everywhere to get off the couch and discover the fun of fishing this summer. To kick things off we're proudly donating more than 40,000 rods and reels to nonprofit youth organizations nationwide to help get more kids outside. Join the movement and pledge to take someone fishing.
The next two weekend, June 10-11 and June 17-18, Bass Pro Shops, including the metro Atlanta location in Lawrenceville, are offering a variety of free activities for the entire family.
Come out to the catch and release pond, located right on site at the Bass Pro Shops. Earn a "first fish certificate" and take advantage of free photo downloads, seminars and informative "Gone Fishing" guides with tips for family-friendly fishing outings, as well as special giveaways. This is start of a summer or promoting fishing to the masses.
"I had a rod and reel in my hand when I was two," stated Josh Panyard, general manager of the Lawrenceville store. "I'm an avid and passionate bass fisherman. That is what this is about. We'll have an event on (June 20) at Centennial Olympic Park and introduce fishing to a new group of people."
Atlanta-specific details:
Bass Pro Shops is partnered with Teach A Child to Fish and the Boys and Girls Club of Atlanta. They will be donating fishing rods and reels to both organizations. Former NFL player and Atlanta area resident, Kendall Newson, heads up Teach a Child to Fish, and is the local spokesperson for these weekend events. There is also a free Gone Fishing Introductory Guide (while supplies last), free Fishing Seminars, take home a Gone Fishing Door Hanger and Bass Pro Shops is also willing to take video game trade-ins, to get $5 off a new youth starter rod and reel combo valued over $19.99. The video games will in turn be donated to AMVETS Association.
"Fishing is a lifetime sports," explained Newson, as he loaded donated rods and reels onto a truck, bound for young anglers. "My dad got us out early on, probably at the age of five. Not after my football career, fishing is that passion that I got back, that I love to do."
Gone Fishing National Donation Day
National donation day is Thursday, June 8,  and 40,000 rods and reels are being donated to nonprofit organizations that connect kids to the outdoors and help get more kids outside. The gently used rods and reels were donated by customers and collected earlier this year. Donors received a discount on new fishing gear. Since 2012, Bass Pro Shops has donated more than 250,000 items to youth-focused nonprofit organizations including Boys and Girls Club and Boy Scouts of America.
Bass Pro Shops also has a huge circular they have released leading up to Father's Day. Even this writer got a tour of the store and noted some parts of the store that should prove to be popular this weekend.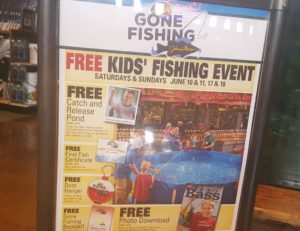 Join other anglers and those that love the outdoors in store, bring the family, and when you hit the water this summer use the hashtag #gonefishing! For hours and details visit BassPro.com/GoneFishing.
The store location is out in Lawrenceville at the Sugarloaf Mills shopping center at 5900 Sugarloaf Pkwy, Lawrenceville, GA.